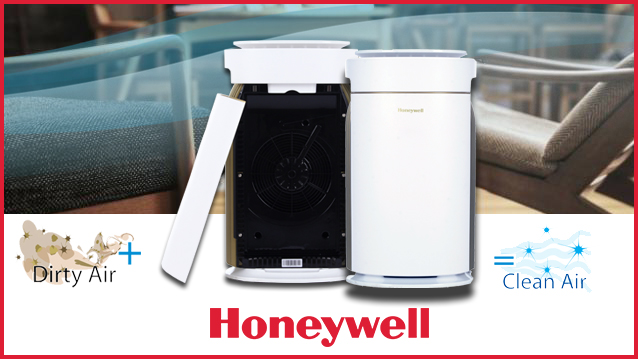 Honeywell India offers a comprehensive range of indoor air purifiers for homes, cars and institutions
Honeywell offers one of the broadest and most comprehensive lines of indoor air purifiers in India for homes, cars and institutions, and now has expanded the offering to apartment homes.
The Honeywell Lite indoor air purifier is a compact and powerful do-it-yourself (DIY) product, featuring an intuitive user experience and beautiful design specifically for apartment homes. It is capable of purifying air in modern, compact apartment homes from 175 to 250 square feet – mainly in rooms such as bedroom, study room, puja room and kitchen.
"Most people are unaware of the more harmful air pollutants that flourish indoors in the seemingly safe enclosures of our homes, cars or offices," said Vinayendra Jain, director of Connected Homes, Honeywell Home and Building Technologies, India. "Furnishings, cleaning agents, cooking, pets and accumulated dust in enclosed spaces contribute to this indoor pollution. As such, it is important to educate people about indoor air pollution."
 The Honeywell Lite indoor air purifier offers a range of features that effectively address indoor air pollution. It comes with a powerful clean air delivery rate (CADR), aesthetic design, increased durability with an anti-UV-coated outer body, and interactive touch panel.  The touch panel offers various controls including child lock, timer and sleep mode. The timer feature offers a unique advantage by enabling longer filter life and reduced running costs.
The power consumption of Honeywell Lite indoor air purifier is economical, using electricity equivalent to only three compact fluorescent light bulbs. The filtration involves a three-stage advanced process to eliminate more than 99 percent of air pollutants that pass through the filter, including PM2.5, pollen, bacteria, formaldehydes, toxic gases and odor – all of which are common indoor air pollutants in homes.
Priced at INR 19,990, the product offers great value for apartment home owners who are looking for a cost-effective solution to the increasing air pollution problem.
"Space constraints or price tags should not prevent anyone from being able to afford a good clean air solution. The Honeywell Lite Indoor Air Purifier is an affordable solution for anyone who wants a safer, healthier, and cleaner environment," said Jain.
Honeywell is one of the leading brands globally in the indoor air purifier space with one of the widest portfolios, cutting edge technology, and a combination of intuitive and user-friendly design principles that provide powerful performance and deliver cleaner indoor air efficiently.