Mitsubishi Electric provides Semiconductors/devices including power modules and high-power devices that handle the highly efficient control of power, optical devices that deliver the performance required in fibre-optic communication devices, high-frequency devices that cover everything from radios and mobile phones to satellite communications.
Mitsubishi Electric power modules are manufactured with state-of-the-art technologies that ensure the highest levels of performance and reliability while offering impressive energy savings for the products and systems they're used in. Our line-up of products is extensive, ranging from power modules developed to control high-voltage power generation, industrial manufacturing and railway systems to applications in home products, such as controlling the electricity used by air conditioners, washing machines and refrigerators. To maintain our market-leading position, the company's R&D activities aiming to realize further reductions in power consumption and size are ongoing.
Recently, ELE Times Sub Editor Mayank Vashisht got the first-hand opportunity to have a discussion with Yogesh Bhatarkar, Manager, Semiconductor EV Busines, Mitsubishi Electric India Pvt, Ltd, specifically about the need for High power solutions for EV chargers and solutions in Automotive Industry offered by Mitsubishi electric. Excerpt:
The latest developments for High-power solutions for fast EV charging?
Electric vehicles are a need for the future to reduce CO2 emissions which are directly or indirectly affecting Global warming. Basically, EVs are there to limit the use of raw materials i.e., Gasolines. Similarly, raw materials for EVs are Electricity and Storage in vehicles for the long run. i.e., Batteries. Both Electricity and batteries cannot be used as it is.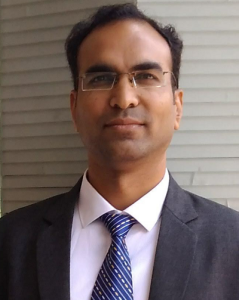 A regulated Power supply needs to feed EV motors to run it more efficiently. This can be provided with proper charging Solutions. More kilometres to travel with EVs need more Electricity to be stored in EV batteries. So, more EV charging capacity would be required to charge the batteries assigned for that kilometre range.
2-Wheeler Electric Vehicles, 3-Wheeler Electric Vehicles, 4-Wheeler Electric Vehicles or EV buses have different capacities of their batteries, so, charging also needs to be done as per the kWH range of the Batteries. In today's generation, time is the most important consideration, so fast charging is an important factor to be considered as well which costs more than the traditional and slow chargers. Slow chargers nowadays take a minimum of around 8 hrs to charge a particular Electric Vehicle to cover a minimum distance of 80KM per day. With Fast chargers available in India, charging time is reduced to a minimum of 1 hour, thanks to the availability and usage of advanced and High-Power Semiconductors. Making EV chargers which can reduce the Charging time to 10 to 15 minutes, also, called Ultrafast Chargers can prove to be useful as per the current requirements. Also, Ultrafast chargers need to be modular or compact to save space for Charging stations. And it should be under a limited budget to be easily accessible and available throughout the City and Intercity.
To achieve the ideal required space and cost, Mitsubishi Electric Semiconductors and Devices offer High-power semiconductor solutions in Terms of Conventional Silicon 600V and 1200V IGBTs (limited to 20kHz Switching frequency), Silicon High-Frequency TH/NFH 1200V IGBTs (up to 60Khz Fsw), SIC Hybrid 1200V IGBTs (for up to 60kHz Fsw and Lower losses and compact design), Full SIC Module and SIC MOSFETs (0-100kHz Fsw). Maximum is the achievable switching frequency of semiconductors more compact and high-power EV charger can be achieved.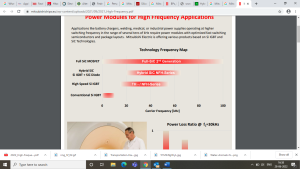 1200V SIC MOSFETs are for compact & modular design of 15-20-30KW EV Chargers and can make ultrafast chargers suitable for 150-300KW. This device will help to reduce the power consumption and physical size of chargers requiring high-voltage conversion.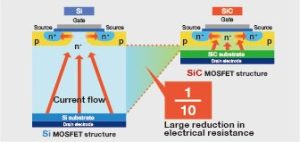 Full SIC Module again give more flexibility to achieve power conversion in EV chargers at 0-100kHz Switching Frequency. Thereby, making more compact and high-power EV charging solutions.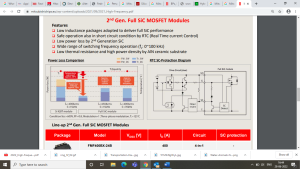 Mitsubishi Electric Si and SIC Hybrid 1200V High-Frequency IGBT Module gives approximately 40% loss reduction and contributes to higher efficiency, smaller size and weight reduction of EV chargers. Modular design or Single Chargers of Higher KW can make it possible to obtain EV chargers of compact size with a Switching Frequency of 30-60kHz. Silicon NFH Series IGBTs also give more flexibility for usage with the lower-cost solution as compared to SIC modules.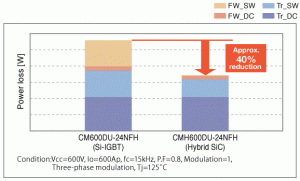 Mitsubishi Electric has been looking for EV Charger solutions, design house, and OEMs from their Semiconductor range for making more Robust and wide range of EV chargers, which can contribute to develop better-Charging infrastructure for consumers and increase their approach towards buying Electric Vehicles.
Mayank Vashisht | Sub Editor | ELE Times