The LTM4630 is a dual 18A or single 36A output switching mode step-down DC/DC μModule (micromodule) regulator. Included in the package are the switching controllers, power FETs, inductors, and all supporting components. Operating from an input voltage range of 4.5V to 15V, the LTM4630 supports two outputs each with an output voltage range of 0.6V to 1.8V, each set by a single external resistor. Its high efficiency design delivers up to 18A continuous current for each output. The device supports frequency synchronization, multiphase operation, Burst Mode operation and output voltage tracking for supply rail sequencing and has an onboard temperature diode for device temperature monitoring.
The circuit below is a 6-phase solution that demonstrates the high current and efficiency of the LTM4630. This circuit supports an input voltage range of 11V to 13V and generates a well-regulated output of 0.95V at 80A. The use of 3 parallel LTM4630 in this example highlights the current sharing and thermal performance of this device.
High Efficiency 6-Phase 80A Step-Down Regulator
The LTM4630 provides high current and high efficiency solution.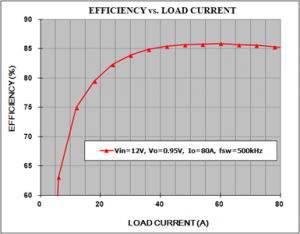 85% Efficiency with Vin = 12V & Vout = 0.95V @ 80A, Fsw=500kHz
This design can be implemented using all ceramic output capacitors (26 x 100µF) and still achieve <10mV steady-state ripple.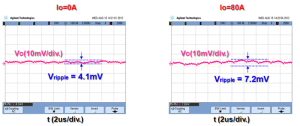 Less Than 10mV Steady-State Ripple Over Full Load Range
Reasonable loop performance can be improved by adding a feed-forward capacitor…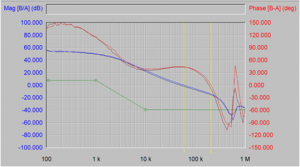 Loop Gain: Bandwidth = 59k and Phase Margin = 44°
High switching frequency and a current mode architecture enable a very fast transient response to line and load changes without sacrificing stability.

Transient Response
The LTM4630 temperature rises to 64°C with no airflow and no heatsink. With 200FPM airflow, temperature rise reduces to 43°C.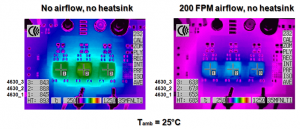 Thermal Test: No Heat Sink
With heatsink but no airflow, the LTM4630 temperature rises to 46°C. With heatsink and 200FPM airflow, the LTM4630 temperature rises only 20°C.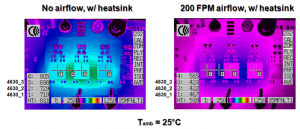 Thermal Test with Heat Sink
 The LTM4630 is pin compatible with the LTM4620 and LTM4620A (dual 13A, single 26A) and the LTM4628 (dual 8A, single 16A); 16mm × 16mm × 4.41mm LGA and 16mm × 16mm × 5.01mm BGA packages.