Electrification of agricultural machinery becoming ever more important / New technology slated to be presented at AGRITECHNICA in Hanover
The electrification of agricultural machinery and auxiliary components is becoming increasingly important also in the agricultural sector. As a result, HARTING has for several years focused its innovative efforts on the development of a standardised interface between tractor and attachment. The resulting newly developed AEF high-voltage connections are slated to be presented at the AGRITECHNICA trade fair (November 12-18, 2017 in Hanover) deployed in various applications.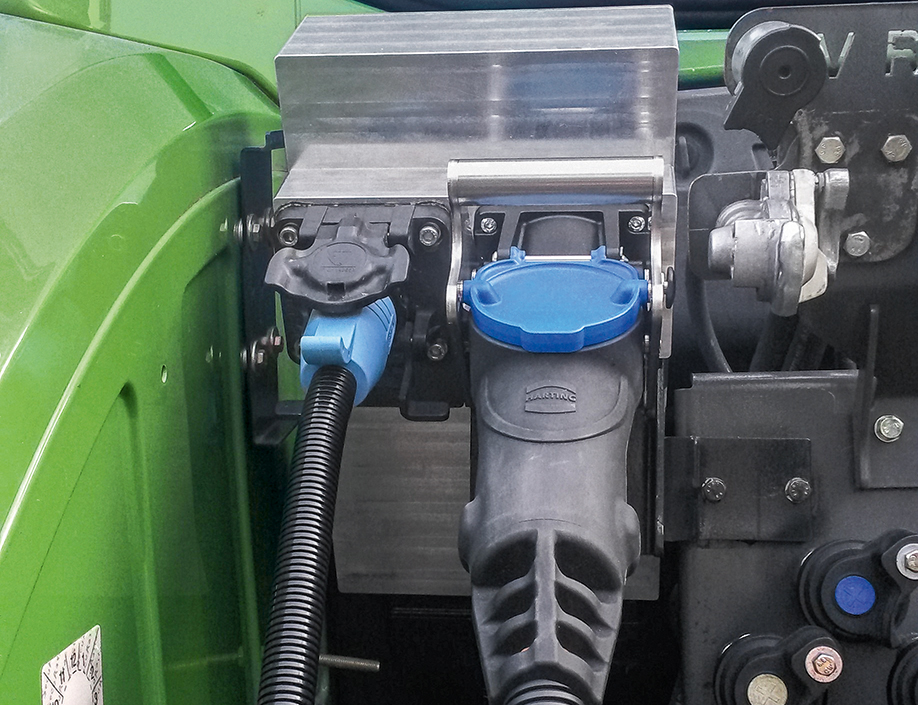 The connector transmits data and power and was developed within the AEF (Agricultural Industry Electronics Foundation) in cooperation with all major agricultural machinery manufacturers. "The AEF high-voltage connections are a new technology," explains Guido Selhorst, Head of Corporate Market Communication at HARTING. To date, the agricultural industry has relied on hydraulic or mechanical solutions for power transmission, says Selhorst. But the electrification of agricultural machinery and attachments is becoming increasingly important to farmers since it can significantly increase productivity. Among others, the use of electric motors is the basic prerequisite for the implementation of complex movement tasks and speed changes in attached equipment.
The AEF high-voltage connections are designed to meet the future power requirements of ancillary equipment and attachments. "The HARTING high-voltage connection supports the development of fully electric and hybrid drive systems on the tractor and the increasing demand for electric drives on attachments," explains Selhorst.
The AGRITECHNIKA trade show will see the AEF High Voltage Connector presented at AGCO/Fendt (Hall 20, Stand A26), at Sensor-Technik-Wiedemann (Hall 15, Stand F49), at ZF Friedrichshafen AG (Hall 15, Stand C06) and at AEF (Hall 15, Stand F33), at the respective exhibition stands.