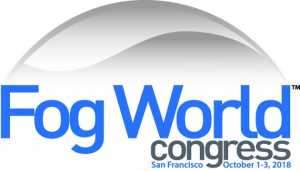 Event organizers announced the lineup of more than 60 presenters, session tracks, tutorials and panel sessions for Fog World Congress 2018, produced by the OpenFog Consortium in collaboration with IEEE Communications Society. The event takes place in San Francisco, Oct. 1-3.
Fog World Congress is the world's largest gathering of fog leaders and edge influencers focused on these ground-breaking technologies. Attendees will include technologists, data scientists, application developers, educators, researchers, analysts, VCs and investors, service providers, government agencies and enterprises representing a multitude of industries.
The event is uniquely focused on fog computing use cases, architecture, standards, developments and research. Use cases will highlight how fog and edge are enabling advanced digital applications in IoT, 5G and AI. Applications in smart cities, transportation, robotics, smart energy and manufacturing will be explored.
"The speaker lineup and topics for this year's conference are designed to address the challenges in fog computing, including security, interoperability and standards, and its impact on the industry," said Helder Antunes, Chairman of the OpenFog Consortium and Senior Director, Cisco. "The subsequent discussions will be critical to driving standards, evolving the industry and unlocking the full potential of fog," said Antunes, who will also deliver one of the keynotes at Fog World Congress.
The current schedule of keynotes includes Robert MacInnis, CEO of ActiveAether, Mung Chiang, Dean of the College of Engineering at Purdue University, Ashish Nadkarni, Group Vice President of IDC, and Tao Zhang, Visiting Chair Professor, National Chiao Tung University. More keynotes are being confirmed.
In addition, the event will feature more than 60 presentations covering a wide range of topics related to intelligence on the edge, machine learning, infrastructure-as-a-service, smart grid, intelligent IoT services, 5G, security, the OpenFog reference architecture, AI, smart city, network/messaging, software infrastructure, mobile edge computing, and more.
An exciting highlight from last year, Fog Tank will once again culminate this year's Fog World Congress. The winner of this year's Fog Tank will receive a prize of $25,000. The Fog Tank contest showcases leading innovators in fog technologies and applications as they take the center stage with investors and VCs.