STEINEL's OEM fixture integrated sensors use PIR or High Frequency technologies with a built in daylight feature. They provide occupancy and daylight control to be easily incorporated in a variety of fixture types for many applications. The HF technology allows the sensor to be totally enclosed within the fixture. This is ideal for IP44 or greater fixture types.
HFLUM2-WR
Fixture Integrated Sensor Module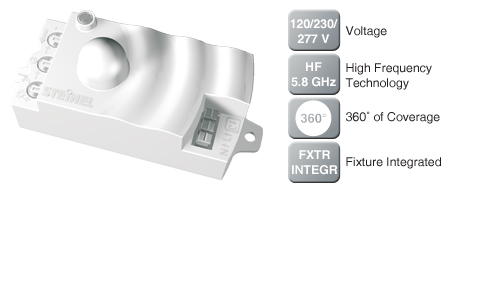 OVERVIEW
The HFLUM2-WR is a line voltage occupancy sensor module that installs in a fixture, adding energy saving lighting control in each fixture location.
The HFLUM2-WR uses STEINEL's High Frequency (HF) technology to turn lights on and off based on occupancy. It works by emitting high frequency electromagnetic waves (5.8 GHz) into the controlled area. Movement in the area causes a change in the waves' echo, resulting in occupancy detection. The sensor can detect motion through many materials including glass and the lens of a fixture, enabling the sensor to be hidden from view.
360° coverage; reach is adjustable from 3.3 to 26 foot
High frequency technology emits 5.8 GHz electromagnetic waves
Built-in surge protection with auto-reset
Lamp seasoning feature provides a simple and convenient 4 day burn in as recommended by lamp manufacturers
Adjustable time delay and light level settings
Light level feature allows lighting to remain off during daylight, regardless of occupancy
Wiring is streamlined with three terminals