While the number of fitness trackers on the market is growing at an impressive clip, thereby allowing we humans to take control of our health, our four-legged besties have been less pampered with technology. Driven by the limitless opportunities of today's high-tech industry, some especially avid pet lovers with backgrounds in embedded software engineering decided to address this situation. Finally, our pooches will also have an opportunity to stay fit aided by a variety of dog fitness trackers. But how did the idea of tracking the activity of man's best friends first see the light of day?
Human pedometers appeared on the wearables scene quite some time ago (at least in "IoT years"). Over time, the underlying technology enabling precise step count has grown ever-stronger. It would be only natural to rely on the existing know-how and groundwork, and repurpose already proven pedometer functionality for the needs of our four-legged friends. Let's consider a shortcut example of taking a human activity tracker built into a fitness bracelet and adapting it to create a smart collar featuring doggie step counting functionality.
Comparing apples to oranges: Mapping pooch behavioral patterns onto human activity
Unlike humans, a dog on a walk creates a more diverse set of behavioral patterns. It can rest, stroll, jump, pace, run, and everything in between. Obviously, the underlying human activity-tracking algorithm couldn't be adopted "as-is," so additional tweaks were required to make sure that data associated with the pet's activity was analyzed and quantified correctly.
First, the feasibility of the idea had to be verified. To understand whether it was in any way possible to reuse the technology and algorithms powering the two-footed human tracking device to count the steps of a four-pawed being, field studies were performed. Relying on a three-way accelerometer, data associated with the dog's behavior was captured. This technology helped differentiate between various levels of doggy activity, to detect movement spans in the form of activity peaks, and to visualize this data. The screenshots below illustrate the difference between human activity peaks versus pet activity peaks, where these peaks account for the steps taken.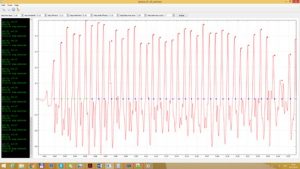 At a high-level, the two diagrams identified a similar pattern, which validated the feasibility of using the algorithm to perform precise step calculations; however, differences were also noticeable.
Translating two feet into four paws
After verifying that the activity patterns were akin, the difference in their characteristics had to be addressed to apply the existing tracking algorithm to the dog's step counter. This was achieved by mapping the timeline of a video capturing a dog on a walk to the graphic data describing its activity. Video clips were matched with precise periods of the pet's activity peaks, which allowed the engineers to further explore any discrepancies and make appropriate changes to the algorithm for four-pawed users.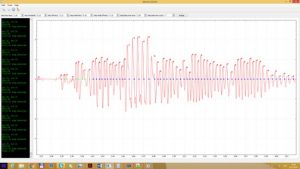 Compared to a human, the dog's movements show greater variety and have a higher amplitude and step frequency (i.e., the step period for the dog was 0.39 seconds, as compared to 0.64 seconds for the human). This was taken into account when tweaking the calculations and filtering out irrelevant movement data to focus on the dog's step information.
Eventually, greater accuracy in quantifying the data was achieved. Any unexpected changes in movement direction caused interruptions in the algorithm-based step count. However, once a regular movement pattern was resumed, the algorithm restored the capability for precise step calculation.
Helping your furry friend stay fit and jovial
Repurposing popular fitness tracking technology for humans for use with pets appears to be quite a viable solution. In the smart collar case mentioned above, the pedometer allows for counting pet's steps, thereby providing the ability to estimate calories burned and distance traveled, and determine active vs. inactive time. All of the data is stored in the collar's memory. The solution, which features a video and timing tools, is also equipped with mobile Internet, thereby allowing the data to be synchronized with the device's profile in the cloud. With proven technology at hand to enable pet activity monitoring, location tracking, and vital health signs scanning, our furry friends are better equipped to live long, healthy, and jovial lives.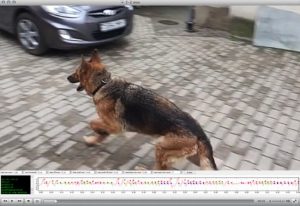 In closing, the human members of the development team that worked on this smart collar solution would like to express their gratitude to Vana the dog for showing zeal and patience in participating in 'paws-on' testing of the pet's step counter. They would also like to assure readers that no animals (or humans) were harmed during these walking trials.
Olga Babik is a tech blogger and leading marketer at Softeq, an IoT application development service company based in Texas, USA. Olga keeps her finger on the pulse of the latest news and trends in the connected world, watching for the most significant and ingenious breakthroughs in the industry and sharing her perspectives on them with like-minded technology buffs. She closely collaborates with the Softeq engineering team working on a wide variety of industrial electronics and consumer wearable device development projects, and reports on their first-hand problem-solving techniques and experiences in dealing with most intricate problems in the industry.