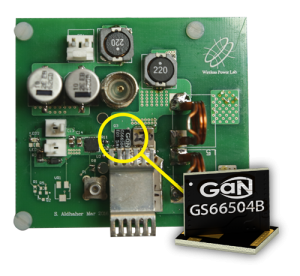 "The GaN market promises an imminent growth", announces Dr. Ana Villamor, Technology & Market Analyst from Yole Développement (Yole). "2015 and 2016 have been undoubtedly exciting years for the GaN power business. We project the explosion of the market with 84% CAGR between 2017 and 2022. The market value will so reach US$ 450 million at the end of the period".
What makes the power GaN technology so promising? The "More than Moore" market research and strategy consulting company Yole pursued its investigations based on numerous exchanges with power GaN companies and thanks to its participation to leading conferences. Yole announces this month the Power GaN 2017: Epitaxy, Devices, Applications, and Technology Trends report.
Things are going on the right way: the power GaN supply chain prepares for production and 2017 has been showing significant investments that confirm the added-value of power GaN technology and its strong potential in numerous applications. The new Power GaN analysis conveys Yole's understanding of GaN implementation and details the different market segments, the related drivers, metrics and technical roadmaps. How did the power GaN industry evolve since the latest Yole's report? What are the key facts & figures related to power GaN activities? Who is leading the market? What will be the tomorrow's changes? Yole's analysts invite you to learn more about this industry and the current challenges.
In 2016 the power GaN market reached US$ 12 million: it is still a small market compared to the impressive US$ 30 billion silicon power semiconductor market. However, its expected growth in the short term is showing the enormous potential of the power GaN technology based on its suitability for high performance and high-frequency solutions.
"LiDAR, wireless power and envelope tracking are high-end low/medium voltage applications, and GaN is the only existing technology able to meet their requirements," explains Ana Villamor from Yole. "Beginning of the year, Velodyne Lidar opened a 'megafactory' to ramp up the latest 3D sensor for LiDAR manufacturing and this October they already announced a fourfold production increase."
Other major companies, like Apple and Starbucks, started offering wireless charging solutions. Moreover, since 2016, EPC has been working with Taiwan's JJPlus Corporation to accelerate the wireless charging market's growth.