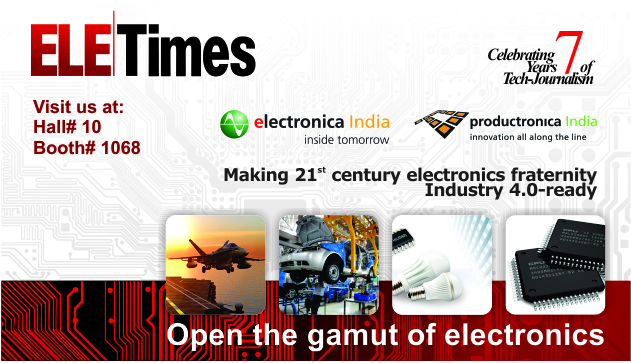 Completing 7 successful years of intense journey in tech journalism, monthly B2B magazine ELE Times today, stands as one of India's leading tech media house, addressing the information hunger of the global Electronics & Technology Industry.
A brand under New Delhi Print Media Pvt. Ltd, ELE Times delivers wide-ranging and updated data on latest products, technologies, innovations, market modifications, changing trends and government policies.
The magazine, along with its content-rich website eletimes.com, is a connecting bridge between the industry's largest, qualified and highly engaged audiences, majorly the Design Engineers, Research Scientists, Project Engineers, top decision makers, and Government officials.
Being a trailblazer in its domain, ELE Times is an active media partner to every major national and international exposition, conferences, and fairs in the electronics realm.
Like the preceding years this year too, the media house collaborates with the 18th annual edition of "electronica India and productronica India 2017," India's biggest trade fair for electronic components and manufacturing industry. ELE Times comes with the biggest print run amongst all major electronics publications in India for ensuring distribution among all the visitors and exhibitors of the shows.
Projected as a 'Gateway to Indian electronics industry' for international technology suppliers, the twin mega events "electronica India and productronica India 2017", along with 'Laser World of Photonics India, 2017, is going bigger this year with its total capacity, anticipating footfall of a larger audience than ever.
The magazine team shall be stationed at: Hall # 10, Booth # 1068.
Visit the stall and collect your free copy of the magazine's September 2017 issue at the event. Copies would also be available at many different locations during the exhibition
For more details, log on to www.eletimes.com.