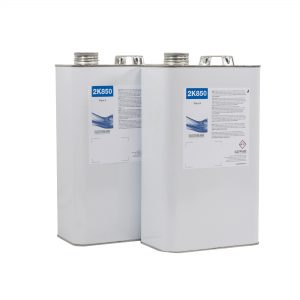 Following the successful launch of their ground-breaking 2K conformal coating materials, Electrolube, manufacturers of specialist, reliability-enhancing, chemical solutions are launching an addition to the range, 2K850. This new UV cure coating will make its debut alongside a selection of new conformal coatings and encapsulation resins at 'productronica 2017' (Messe Munich, November 14-17 Hall A4 Booth 466).
This exciting innovation combines the features and benefits of the 2K system, with the speed and convenience of UV cure, enabling an immediate tack-free coating. Once the two components are mixed, the system guarantees complete cure at room temperature within 24 hours by a predictable chemical reaction thereby enabling board calibration or further processing. In contrast, most single part UV cure systems currently available require moisture to diffuse through the UV cured coating sections.  If the material is a decent barrier to humidity, full moisture cure beneath components can be measured in weeks or even months for some components.  For sensitive designs, the constant changes in material properties, as the moisture-cure process progresses can affect calibration.  In a production scenario, this extended cure time can impact the amount of Work in Progress (WIP) and require excessive buffering.
The 2K850 system features a wide operating temperature range of -40 to +130°C with excellent thermal shock performance. It is a tough, flexible, high-performance coating, which also provides the protection of a resin with the ease of application of a conformal coating. The UL94V-0 compliant coating is characterized by greater coating thickness, enhanced edge coverage, and improved adhesion, hardness and scratch resistance. Ultimately, this coating provides a consistent and completely reliable chemical cure.
Phil Kinner, Global Technical Director (Coatings Division) comments, "2K850 really heralds a tremendous breakthrough for customers. Current users of single part UV cure coating systems experiencing issues relating to their coating cracking during thermal shock, or extended moisture cure processes (or both) now have a robust alternative solution using their existing production equipment – the only additional requirement is a 2K fluid system."
Ron Jakeman, Managing Director further adds, "We are delighted to bring such an innovative solution to market; our 2K850 product offers major advantages over the first generation of single part UV cure coatings."
As a complete solutions provider, Electrolube offers a wide range of electrochemical solutions, which include thermal management products, encapsulation resins, conformal coatings, contact lubricants and cleaning solutions. Visitors to Productronica 2017 are invited to meet the Electrolube team in Hall A4 of the Messe München, Booth 466. During the course of the show, Electrolube will be hosting live selective coating demonstrations on a PVA system. Visitors are welcome to put their process and application requirements to the team, who will be happy to discuss solutions that will really make a difference.
For further information, please visit http://www.electrolube.com.