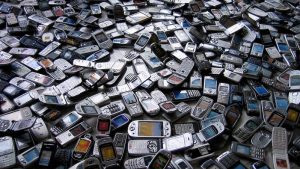 Electronic goods companies, including multinationals that have been operating in India for at least a decade, could see pressure on profit due to a proposed rule on electronic waste disposal and its treatment under current accounting standards. Companies such as Samsung, LG, Apple, and Nokia will be required to collect a predetermined percentage of the goods they sell every year, stretching back over the past 10 years, according to a report in The Economic Times.
Under Indian Account Standards (Ind-AS), the companies will be required to provision for this cost in the current fiscal, leading to a possible erosion in earnings. They have asked the Ministry of Environment, Forests and Climate Change to amend the rule and strip out its retrospective nature.
E-waste includes mobile phones, tablets, computers, television sets, washing machines, and refrigerators. The regulations also indicate the lifespan of a product— such as five years for mobile phones and 10 years for washing machines.
If the rules are put in place without changes, companies may look to pass on the costs to consumers, estimating that prices could rise 1-4% in that case.