Hongfa is among the biggest names in the relay business globally. And the firm has been invested in the Indian market quite aggressively which has also reaped a lot of benefits. ELE Times caught up with RA Gotur, Director – Indian Operations, Hongfa Group, to discuss Hongfa's positioning in the Indian market, the challenges of the market, and how Hongfa has managed to stay at the top of the relay business.
Why do you reckon that the Indian market is important for Hongfa?
RA Gotur: India has the second largest GDP among the emerging economies with predicted growth of at least 7.5 % in 2018 – 19, and around 8% by the next fiscal year 2019-20. This has the potential to attract companies across all sectors. Hongfa believes that India will continue to make rapid strides, and it sees the market very crucial to land its products. In the last couple of years, the quality of engineering & technology has also improved tremendously. Also, a lot of global companies are investing in India and we're seeing a number of R & D centers getting established in all major cities of India like Delhi, Bengaluru, and Pune. A lot of the big global organisations have benefitted from the huge professional & skilled engineering manpower available in the market and that is among the key reasons as to why Hongfa is so committed to the Indian market.
Can you give us a brief on the relationship between HONGFA & KG Technologies? Is KG Tech, like Hongfa, manufacturing relays?
RA Gotur: Hongfa actually acquired KG Tech a couple of years back and is today an owner of about 40 companies. So that way, it is KG Tech's parent organisation. Regarding the second part of your question, KG Tech is not involved in the manufacturing of relays. Rather, Hongfa manufactures relays for them and they later sell it under the KG brand.
The Indian market is considered to be a special market majorly because there is fierce competition between a lot of companies here. What would you say is the Hongfa advantage as opposed to some of your competitors? Also, we can't talk about the Indian market without talking about the varied challenges. Please shed some light on that too.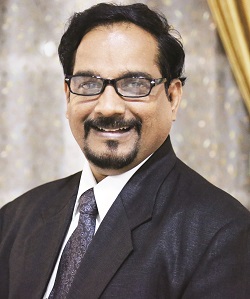 RA Gotur: You are right! There is indeed very stiff competition in the Indian market as a number of our competitors have similar products like ours. However, despite that, we keep remaining the go to brand for relays for our Indian consumers. We have enjoyed continued growth over the years because of our aggressive strategy. Also, we have a wide range of relay series segments and as a result, we have been able to deliver high quality products at competitive prices with JIT (Just in time) terms.
On top of that, the Hongfa commitment to quality and value pricing has helped us immensely.
Talking about the challenges, India is an extremely price sensitive market. As a result, there is always that constant price-reduction pressure from our customers and also from our distributors. However, it's not as if it is a problem peculiar to the Indian market. Almost every market is price sensitive, and due to our global experience, we have managed to deliver exactly what our customers want.
Ever since 2014, there has been a huge push towards igniting India's dormant manufacturing sector. In fact, electronics has been named as a priority sector under the Make in India initiative. Can we expect Hongfa to set up a manufacturing facility in India?
RA Gotur: At this moment, we do not have any plans for opening a manufacturing facility in India. However, we are closely examining the market. Rest, only time will tell. It would be great to manufacture in India though!
You are among the biggest companies in the relay game globally. What has been your market share in India?
RA Gotur: As of now, Hongfa's share in the relay market is around 18 percent. However, we are witnessing continued growth across the table, and are optimistic about that number rising in the future.
What are your future plans for the growth of your business in India?
RA Gotur: We have aggressive plans for our growth in India. We have identified a few areas where Hongfa will focus more in the future. Some of these areas are power electronics, consumer electronics, automotive, lighting, and the smart meter segment among others. Hongfa has aligned its strategies and resources according to these areas to reach our target in the future.