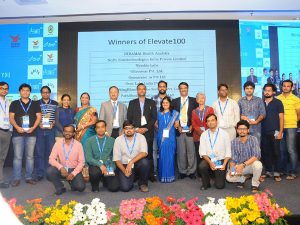 DigitalOcean, the cloud for developers, signed a Memorandum of Understanding (MoU) with KBITS (Karnataka Biotechnology & Information Technology Services) – Dept. of IT, BT and S&T, Govt. of Karnataka to provide cloud infrastructure and support to startups enrolled with the Karnataka Start-up Cell. The MoU was signed at the government's 'Elevate 100' program which aims to support startups by providing a sum of Rs.400 Cr of Government funds over a period.
Under the program, DigitalOcean will help startups selected by the Government of Karnataka's (GoK) 'Start-up Cell' with cloud infrastructure credits and also provide consultation on technical platform & architecture queries. Under the agreement, DigitalOcean will give $1000 worth cloud credits for startups that are being funded under the government's initiative. In addition, DigitalOcean will organize knowledge sharing sessions called 'learnups' which will help startups learn about recent technologies and best practices from subject matter experts to help them scale & run a successful business.
DigitalOcean is a cloud platform focused on simplifying the complexities of infrastructure for software developers and has helped boost the start-up ecosystem by helping high growth startups such as NoBroker with their incubator program, Hatch.
"Our goal is to empower developers and startups around the world to build amazing things, and our robust, affordable, and simple infrastructure is making the cloud more accessible than ever. India is poised to unleash a tremendous amount of innovation in the next decade and we want to be there to support every business to grow and succeed. We are excited to see the innovation being driven by startups in India and we look forward to working with the selected startups and partnering with the Government in their vision to make Karnataka a true start-up hub," said Prabhakar Jayakumar, Country Manager, DigitalOcean India.
The Elevate 100 will help startups by providing them funds and mentors to help them turn their ideas into successful businesses. DigitalOcean's Incubator program named Hatch) is an example of the company's focus on ensuring that developers and high-growth startups can seamlessly launch and scale their businesses.