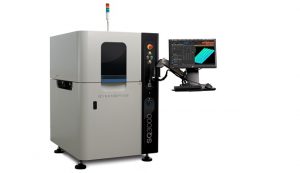 CyberOptics Corporation announced that it has been awarded a 2018 EM Asia Innovation Award in the category of Software – 3D AOI Software Systems for its new high-speed SQ30003D CMM. The award was presented to the company during an April 25, 2018 ceremony at the Shanghai World Expo Exhibition & Convention Center during NEPCON China. The new Coordinate Measurement system is an extension of the MRS-enabled SQ3000 platform deemed best-in-class.
Powered by proprietary Multi-Reflection Suppression (MRS) technology, the SQ3000 3D CMM utilizes CyberCMM, a new comprehensive software suite for coordinate measurement. In a lab or production environment, the MRS-enabled SQ3000 CMM system is extremely fast and highly accurate, with repeatable and reproducible measurements for metrology applications in manufacturing of a wide variety of products such as PCBs, semiconductors and consumer electronics.
CyberCMM, an extensive suite of CMM tools, provides 100 percent metrology-grademeasurement on all critical points much faster than a traditional CMM – seconds, not hours – including coplanarity, distance, height and datum X, Y, to name a few. A fast and easy setup can be performed as compared to a slow, engineering resource-intensive setup that typically requires multiple adjustments with traditional CMMs.
Established in 2006, the EM Asia Innovation Awards program strives to recognize and celebrate excellence in the Asian electronics industry, inspiring companies to achieve the highest standards and push the industry forward.
For more information, visit cyberoptics.com.