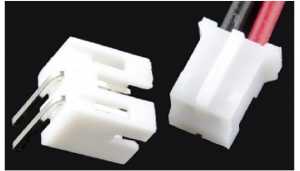 Advancing technology across a range of industries is adding a new element to the ongoing drive to produce smaller, faster, lighter, and less expensive connectors. Smart connectors—that's the buzzword today trying to find ways to integrate intelligence and electronics into just plain passive connectors to make them more interactive and delivering more feedback to users. The challenges are numerous.
A new wave of technologies including e-mobility, Industry 4.0, edge computing, artificial intelligence, and augmented reality will bring about big changes in the way we work today. The Fourth Industrial Revolution is upon us. The integration of robotics, automation, real-time data, and IoT connectivity across equipment on the floor, farm, or factory is transforming the manufacturing experience. High-speed 5G communications are key to widespread adoption of autonomous driving. High-speed connectors, fiber cabling, and the Internet of Things will all play a crucial role.
The industry specific challenges keep the designers on their toes. New automotive technologies are changing the ways that cars are wired. Give a detail outlook of the systems that are rising in importance as connectivity take the centre stage. These critical components must reliably transmit power, signal, and data in all manner of conditions. The hybrid electric and electric vehicle (HEV/EV) market has been rapidly evolving. Today, the vision for applying robust connector technology is expanding from race cars to robotics in the form of autonomous vehicles. This adoption has been driven by design and material developments, reducing connector weight as much as 20% to 30% compared to standard designs.
Some companies are manufacturing edge-computing power connectors which enables highly sensitive data to be transferred from the device to the cloud and back again. The same kind of work has been done in manufacturing connectors for AI and Augmented reality. There has been a tremendous work done for IoT and IIoT applications by the connector companies, including fiber optic connectors. The study finds out the solutions to the ever growing list of challenges before the manufacturers:
Challenges and Solutions for New Technologies
Ravindra Kumar, Country Manager, SAMTEC India on the challenges and solutions for new technologies for connectors: "Perhaps the biggest challenge for our customers is bandwidth. Next-generation bandwidth requirements are unbelievably high. We currently have connector systems rated at 112 Gbps PAM4.  As bandwidth requirements increase, design engineers struggle with the challenge of propagating these ever-increasing signal rates through PCBs.  To hit these speeds, designers often have to use special board laminate materials with lower dielectric constants and dissipation factors, but these materials are very expensive.  Another challenge is the trace lengths on the boards are still relatively short.  To combat this and allow for usable trace lengths at the higher speeds, multiple expensive "retimer" chips are often required every few inches along the signal path.  System architects are now using an alternate approach where signals are transferred on a mid-board high speed cable assembly.
This is Samtec Flyover technology. A connector is located next to an FPGA or processor, which launches the signals out of the PCB.  The signals transfer via discrete or ribbon twinax cable, to another location on the board.  Flyover simplifies board design, reduces thermal challenges, eliminates expensive retimers, pcb layer count is reduced, which also saves cost, and designers don't have to use expensive, exotic PCB materials.  This design strategy is gaining acceptance because of the quality and reliability of Samtec's IP protected.
Amit Tiwari, Marketing Manager, Wago, on challenges and solutions for new technologies, "The pace of advancement in digital technologies has never been so swift. Each day we witness a constant evolution in all walks of life from everyday utilities to industrial operations. The concept of Industry 4.0 or smart factory has put emphasis on data exchange in manufacturing technologies enabled by the Industrial Internet of things (IIoT) – cyber-physical systems and cloud computing. While digitalization and networking have transformed the way we look at operations of industrial and manufacturing world offering great opportunities to organizations, there are various challenges.
The current disintegrated operations of different departments pose a threat to develop a common vision towards restructuring organization and processes to maximize new outcomes. A large number of organizations are still looking for ways to seize opportunities offered by Industry 4.0 without disrupting the existing operations. While there is no such thing as an all-in-one solution, smart products, methods, partners and commitment to make it work will help advance digitalization in business in ways that benefit all involved."
Technology and Product for i4.0
Ravindra Kumar, SAMTEC India on technology and product for i4.0, "Many designers in the realm of i4.0 are concerned with both speed/data rate and ruggedness. Samtec has a variety of micro pitch, high-speed, rugged products for these types of designs. An example includes the Edge Rate socket and terminal set, ERM8 and ERF8.  First, they are high speed; depending on the configuration they're rated at 28 Gbps or 56 Gbps PAM4.  Second, they have a smaller footprint than other high-speed connectors with integral ground planes; their footprint is approximately 15% smaller than other systems. And the contact design is rugged and can handle high-cycle applications.
Amit Tiwari on technology or product for i4.0, "In a world of exponential complexity and digital speed, it requires a reliable connection at each interface. With every little step that leads to more reliable electrical and data flow, we come a step closer to our vision: Being the backbone of smart connected world."
"With its range of products for interconnection, interface electronics and automation controls, WAGO supports the seamless and continuous acquisition of valuable information from signals and data. This information then can be aggregated and used for analysis delivering added value to the organization – whether for optimally utilizing and monitoring industrial processes, increasing the efficiency of in-house production, implementing energy management or developing additional end-customer services, said Tiwari.
He further said, "Organizations can take advantage of WAGO solutions for easy and secure connection. In a few steps, users can have a site-independent overview of all the relevant information and can identify potential for optimization and initiate changes directly."
For High Speed Connectivity
Ravindra Kumar on 'For high-speed connectivity', "The AcceleRate HD is a 0.635mm-pitch, multi-row interconnect system that provides an ultra-high-density interface and next-generation bandwidth. The ADM6 and ADF6 Series offer up to 240 total I/Os in a mere 1.88 square inches of PCB real estate and have a low stack height of just 5mm (with 7mm and 10mm options in active development). The system incorporates the Edge Rate contact system, which is optimized for signal integrity performance and is rated to 56Gb/s PAM4 modulation. Solder ball technology for simplified processing is standard, as are alignment pins and body polarization. The products are RoHS-compliant, lead-free solderable, and are also available as the slimmest cable assembly in the industry, with a 7.6mm body width ideal for closer proximity to ICs. The high-density, two-row cable assembly design offers 8- and 16-pair configurations on a 0.635mm pitch for up to 92 pairs per square inch and extends performance, reach, and system flexibility with Samtec Flyover technology, which flies signals over lossy PCB via ultra-low-skew twinax Eye Speed cable.  (refer image attached)
Tiwari on for high-speed connectivity, "WAGO products are extensively used in power and process technology, building automation, machinery and equipment, as well as industrial and transportation applications."
"In transportation segment, WAGO has been a railway staple for more than 40 years. The superior operator-independent quality of WAGO's electrical interconnection technology, which features quick and easy handling, is only one of the reasons that this vibration-proof spring pressure connection technology has been an industry go-to. You can find our technology aboard electric and diesel locomotives, passenger railroad cars and double-decker vehicles, and in traction vehicles for regional, local and high-speed trains, trolleys and subways, said Tiwari"
Tiwari further stated, "From Point Operating Systems, Signal Technology, cabin technology including lighting installation, air-conditioning technology, drives & converters, switch and fuse panels, battery chargers, and junction boxes to modern station infrastructure, WAGO offers appropriate and reliable electrical interconnection, interface electronics and automation solution for all applications that can be installed quickly and easily."
Miniaturization of Connectors
Ravindra Kumar on Miniaturization of connectors, "Yes, the demand for smaller devices and components will continue to grow.  Samtec connectors are now as small as .4 mm pitch, and as low as 2.5 mm stack height.  The ongoing trade-off is size, verses performance, vs durability.  These factors can be accounted for in the connector design, and designers are also integrating elements into the PCB to meet their system requirements. Samtec addresses these issues with contact design, insulator design and placement, and suggested pcb routing strategies.
Future of Connectors for Embedded and Machine Vision Applications
Ravindra Kumar on Future of connectors for embedded and machine vision applications, "Samtec has many connector products that are used in high-speed, embedded, and machine vision applications.  Common characteristics include micro pitch, high bandwidth, high density, and plenty of options for board stacking flexibility.