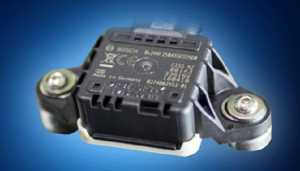 Mouser Electronics is now stocking the Connected Industrial Sensor Solution (CISS) from Bosch. The Bosch CISS is a robust, multi-sensor device designed to enable Internet of Things (IoT) applications in harsh environments, using MEMS technology to detect vibration and acceleration and other environmental conditions.
The Bosch Connected Industrial Sensor Solution, available from Mouser Electronics, integrates a gyroscope, accelerometer, magnetometer, temperature/humidity/air pressure sensor, microphone, and light sensor. Engineers can activate or deactivate each sensor individually and configure the sensors' sampling rates and thresholds to suit a variety of applications. The CISS features a 32-bit Arm Cortex-M3 microcontroller with 1 MByte of internal flash, as well as a Bluetooth low energy (BLE) radio and USB connectivity for data transmission.
The CISS provides valuable data to optimize maintenance processes and enhance productivity, and can be integrated to wide range of hardware-agnostic gateways and clouds. The device allows for monitoring of multiple conditions simultaneously to provide improved predictive maintenance, while both live and historic data can be supplied over the Virtual CISS app or the cloud.
The compact, IP54-rated device offers an operating temperature range of minus 20 degrees to 80 degrees C, making it suitable for Industry 4.0 applications, including preventative maintenance, industrial retrofitting, digital twinning, and condition monitoring.
To learn more, visit mouser.com.