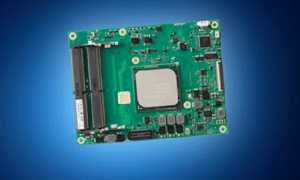 Mouser Electronics, Inc., the industry's leading New Product Introduction (NPI) distributor with the widest selection of semiconductors and electronic components, is now stocking Express-BD7 Computer-on-Modules (COMs) from ADLINK Technology, a Premier Member of The Intel Internet of Things Solutions Alliance. ADLINK's Express-BD7 COMs help engineers build space-constrained systems in industrial automation and data communication — such as virtualization, edge computing or other numerical applications — that require high-density CPU cores balanced by reasonable power consumption.
ADLINK's Express-BD7 COM devices, available from Mouser Electronics, are designed around the Intel Xeon processor D and Intel Pentium processor D systems-on-chip (SoCs) and based on the latest PICMG COM Express 3.0 specification with Type 7 pinout. The Type 7 pinout removes graphics support available in Type 6 and replaces it with up to four 10 Gigabit Ethernet (10GbE) ports and an additional eight PCIe ports for a total of up to 32 PCIe lanes.
The Express-BD7 has dual stacked SODIMM sockets supporting up to 32 GBytes of DDR4 ECC (or non-ECC) memory, and interface options include USB 3.0/2.0 ports and SATA 6 Gbps ports with support for SMBus and I2C. The module also features built-in Smart Embedded Management Agent (SEMA) Cloud functionality, which enables remote monitoring, autonomous status analysis, custom data collection, and initiation of appropriate actions in distributed devices. All collected data, including sensor measurements and management commands, are available from any place, at any time via encrypted data connection.
The Express-BD7 COM is supported by the ADLINK COM Express Type 7 Starter Kit Plus, which includes everything needed to design and develop COM Express systems based on Type 7 modules.
To learn more, visit mouser.com.