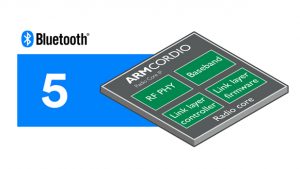 Upgrades are normally about 'a little bit better' when it comes to technology but not for the new Bluetooth 5.0 standard. It will quadruple the distance over which a signal can be sent, push data twice as fast and increase the size of the broadcast messaging capacity by a factor of eight. All of this will revolutionize what can be achieved with Bluetooth in the home, office and the factory. And the best news is, ARM's latest Cordio radio products come Bluetooth 5.0 ready.
The developers' turn
With formal adoption the Bluetooth Special Interest Group (SIG) has made the specification available to the public and opened the gates for member companies to commercialize Bluetooth 5.0 products.  Although the specification became official only on December 6, 2016, ARM has been developing and testing its Bluetooth 5.0 technology for some time.  In fact our first test chip with 2Mbps capabilities was in our lab in August 2015 (watch demo video here).  Since then our engineering team has been busy designing and implementing the silicon and software, attending test events, and shipping early versions of our Bluetooth 5.0 ARM Cordio IP to multiple customers.
ARM's Cordio silicon and software IP for Bluetooth low energy supports the major new features of the Bluetooth 5.0 core specification, including 2Mbps PHY, Long Range, and Advertising Extensions.  These new features expand Bluetooth low energy to enable use cases that require higher throughput, longer range, or more powerful broadcast capability.
What will the future hold?  Time will tell, but it seems likely that Bluetooth 5.0 will be a strong follow-on to the smashing success of Bluetooth 4.0-4.2, which resulted in massive adoption of Bluetooth low energy technology.  As Bluetooth 5.0 features make it into mobile phones and IoT gateways new low energy products become possible:
The range extension will deliver robust, reliable IoT connections that make home, building, and outdoor use cases a reality, for example the range extension could allow long range sensors with whole-house coverage for you to control your smart appliances and smart home applications from the other side home or in your garden.
The increased speed will optimize responsiveness, support faster data transfers, high throughput audio peripherals, and offer software updates to enhance capabilities. In addition, it will also have the benefit of providing better power efficiency.  For example, wearable devices can transmit data faster to smartphone or tablet applications and go to sleep faster and thus prolonging battery life.
The increase in broadcast capacity in itself will drive the next generation of "connectionless" services like beacons and location-relevant information and navigation that will not need to download an app to connect to, or a redirect to a webpage, to experience a content-full information.
Given the fast industry adoption of Bluetooth 4.0-4.2 I wouldn't be surprised if these features start to arrive sooner than you think.
Check out our webinar on how you can add Bluetooth 5.0 to your next SoC with ARM Cordio radio IP