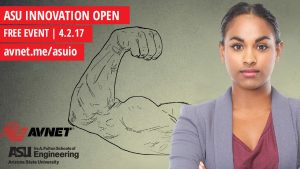 As part of its ongoing partnership with Arizona State University (ASU) to drive technology innovation and entrepreneurship, Avnet is sponsoring the inaugural ASU Innovation Open (ASUio). The final round of the ASUio, the ASUio Demo Day, will take place this Sunday, April 2 at Arizona State University's Beus Center for Law and Society, from 1:30 to 4:00 p.m.
The ASUio is a highly competitive challenge that draws dozens of student-led teams from across the United States, including Arizona, California and Hawaii, to design innovative technologies that leverage the Internet of Things (IoT) and help address the world's most complex problems.
Four teams of finalists will compete for a grand prize of $100,000, sponsored by Avnet. The winning team will use these funds to continue developing their new technologies. Participation was open to all current university students from any academic discipline and required an application process, including a video submission and a live Q&A session with a panel of evaluators. All entries were narrowed down to 15 semi-finalists who were then invited to participate in a VIP experience that included tickets to the Waste Management Phoenix Open and a second round of pitching to a panel of judges. The top four finalist teams were then selected and received $5,000 from Zero Mass Water to further their innovations, and the opportunity to win the $100,000 grand prize at the ASUio Demo Day event.
"The ASU Innovation Open demonstrates our support of entrepreneurs and startups, big and small, through every step of the product lifecycle, starting with an idea and taking it all the way to production and distribution," said MaryAnn Miller, senior vice president, chief human resources officer, and global marketing & communications for Avnet. "Avnet is preparing for tomorrow's economy today and turning new ideas into marketable realities. We are proud to sponsor the ASU Innovation Open as part of our longstanding commitment to supporting technology development and STEM education."
Teams competing in the Open include:
Nunami Labs : University of Arizona (U of A) Kory Chinn, Ryan Leeper and Scott Marshall developed sensors to enhance how self-driving cars detect surroundings, a technology which could potentially make roads and highways safer.
RepWatch : John Ikudaisi, Robert Kyler and Alexis Schomer from California Lutheran University designed wearable technology that corresponds with a mobile app to allow someone recovering from an injury to easily track physical therapy and fitness activities and recover as quickly as possible.
Somatic Labs : Shantanu Bala, Ajay Karpur and Jake Rockland– from ASU and U of A – built a wearable device called 'Moment,' which uses touch cues via haptic feedback to communicate alerts such as GPS navigation and caller ID to the user.
Swift Coat : Peter Firth and Zak Holman, from ASU, developed a coating, inspired by graffiti art, which can range from one nanoparticle-monolayer thick to more than one millimeter, offering new solutions for the solar, glazing, filtration, display and sensor markets.
Each of the four finalist ventures will have five minutes to present their project to a five-judge panel, comprised of industry leaders and subject matter experts including: MaryAnn Miller, senior vice president, chief human resources officer, and global marketing & communications for Avnet; Therese Bassett, chief strategy and innovation officer for Avnet; Cody Friesen, ASU Associate Professor and CEO of Zero Mass Water; Michael Hool, managing partner, Hool Coury Law; and Dean Duncan, senior director of strategy, Salt River Project. The finalist teams will then respond to judges' questions for a period of seven minutes. After the presentations conclude, judges will deliberate to select a winner. Avnet's Hackster.io – the fastest growing, online community for learning and creating hardware – plans to receive and tally votes online, the results of which will factor into the selection process.
"The Innovation Open represents ASU's commitment to valuing entrepreneurship in all of its forms," said Dr. Kyle Squires, dean of the Ira A. Fulton Schools of Engineering at ASU. "Arizona State University has been honored to collaborate with Avnet, along with many other dedicated sponsors and ASU colleagues, to make this inaugural competition a success. We are thrilled to provide an impactful experience for all the participating students who have come to compete from all over the Southwest and beyond."
Avnet's sponsorship of the ASUio builds on the company's ongoing partnership with ASU. Last year, Avnet and ASU launched the Avnet Innovation Lab to enable aspiring entrepreneurs to advance their innovations. The lab continues to provide critical business consultation and venture support to entrepreneurs developing new technology.
The ASUio will be open to the public; however, registration is encouraged.