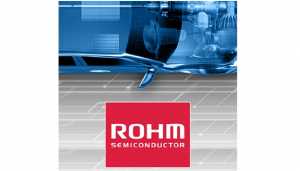 Mouser Electronics, Inc., the industry's leading New Product Introduction (NPI) distributor with the widest selection of semiconductors and electronic components, is pleased to offer customers a new page dedicated to the extensive lineup of automotive solutions from ROHM Semiconductor. ROHM's comprehensive, stable selection of products supports the increased implementation of computerization and connectivity in next-generation vehicles. The application-specific Automotive Devices page provides a convenient resource for quickly choosing the best ROHM product for a variety of automotive design projects.
The ROHM Semiconductor Automotive Devices page, now available on the Mouser Electronics website, features ROHM's broad selection of automotive products for applications including infotainment, powertrain, electric vehicles, and body electronic control units (ECUs). The solution page includes an introductory video and several block diagrams to assist in making the proper product choices for automotive design. Each block diagram is paired with a written description and suggested products for the application.
The Automotive Devices page includes links to twelve associated product categories:
MOSFETs
IGBTs
EEPROMs
LDO Regulators and Voltage Trackers
LED Drivers
Motor Actuator Drivers
Schottky Barrier Diodes
Switch ICs
Switching Regulators
LEDs
Multiple Input Switch Monitor ICs
Full CMOS LDO Regulators
Each product category features a list of available ROHM Semiconductor products that relate to the application, along with downloadable datasheets and product ordering information. From HVAC control modules to advanced driver assistance systems (ADAS), ROHM Semiconductor addresses a broad range of needs for vehicle connectivity and computerization. The new ROHM Automotive Devices page presents the company's selection in an understandable format, offering a single useful resource for ordering automotive products and components.