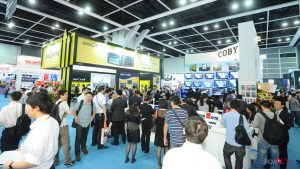 The HKTDC Hong Kong Electronics Fair (Spring Edition), the largest spring electronics event in Asia, and the concurrent HKTDC International ICT Expo opened on April 13. The four-day fairs (13-16 April), are both being organised by the Hong Kong Trade Development Council (HKTDC) held at the Hong Kong Convention and Exhibition Centre. More than 3,500 exhibitors from 23 countries and regions are showcasing an assortment of cutting-edge technologies and smart products at the fairs, including innovative solutions and products presented by start-ups.
– Startup zone showcases creativity of 100+ companies –
A growing force in the business arena in recent years, start-ups number more than 1,900 in the city, according to an Invest Hong Kong report last year. Many young entrepreneurs are introducing new ideas and distinctive products resulting from their creativity and technological expertise. In view of this trend, the HKTDC introduced the Startup zone at the Electronics Fair and ICT Expo this year to feature the innovative technologies, products and services of more than 100 start-ups from Hong Kong, the Chinese mainland, India, Japan, the United States and Taiwan.
The zone features a panoply of innovations from start-ups including an all-in-one real estate digital platform incorporating Virtual Reality (VR) technology (Booth: 3CON-240), an Artificial Intelligence (AI)-powered data analysis platform for monitoring pet health (Booth: 3CON-240), an audio streaming box that digitises audio and transmits it to a smart device (Booth: 3CON-169) and a smart cloud-based temperature and humidity monitor for cold chain logistics such as cargo containers carrying food and beverages (Booth: 3CON-216).
A series of start-up themed events are being held at the fairs. These include sharing sessions featuring representatives from Alibaba Entrepreneurs Fund, the crowdfunding platform FringeBacker, successful entrepreneurs, angel investors and start-up online media. There are also Pitching and "Startup, Smart Launch" sessions for start-ups to pitch their solutions and project ideas to potential investors, buyers and media. At mentoring sessions, mentors will help start-ups connect with potential partners at the fairs. Two events to be held on the last day of the fairs (16 April) – the "Together Stronger: Creating Impact via Regional Collaboration" sharing session and the APEC Startup Ecosystem Roundtable – will explore ways that start-ups from around the world can collaborate for greater innovation and impact.
– 170+ buying missions to generate business opportunities for exhibitors –
To help exhibitors capture more business opportunities, the HKTDC has organised over 170 buying missions comprising more than 12,900 buyers from over 9,400 companies to visit the fairs. Participants include major global importers, distributors, retailers and IT consultants, such as Amazon from the United States, Brazil's JTI, Argentina's Mas Singergia SA, France's Groupe SEB, the United Kingdom's Ukbigbuy, the Czech Republic's Enreco Trade, Russia's Bars Group, Australia's Catch of the Day, the Chinese mainland's Wangfujing Department Store, Thailand's 24 Shopping, Korea's Hyundai and Japan's Mindfree.
To meet buyers' growing need to source in small orders, the Spring Electronics Fair once again features the hktdc.com Small Orders zone, where some 300 showcases offering close to 3,000 products are available in minimum order quantities of between five and 1,000 pieces. In view of the popularity of e-commerce, the hktdc.com Small Orders online transaction platform  is also available for global buyers to source products and complete transactions online. The online platform currently features over 120,000 products from more than 11,000 suppliers, and has generated more than 2.1 million business connections to date.