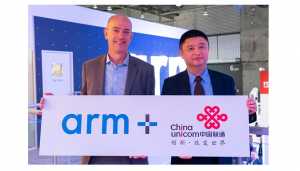 Arm and China Unicom announced a long-term partnership agreement to deliver IoT scalability, security and simplicity to Chinese enterprises and global companies looking to have a local presence in China. The collaboration will provide a flexible, high performance and secure solution by leveraging Arm Pelion Device Management, Arm Mbed OS, China Unicom's new IoT platform and a rich device and application ecosystem.
Pelion Device Management allows organizations to securely and efficiently onboard, manage and update various types of IoT devices (from ultra-constrained to large gateways), throughout the device lifecycle. Pelion Device Management also provides enterprises with the flexibility to deploy in the public or private cloud, on-prem or in hybrid environments.
The China Unicom IoT Platform brings a robust "edge-to-cloud" ecosystem, and securely connects 100 million devices across China. The solution provides device-to-data security and device management by building on top of Arm's Pelion Device Management service that can manage any device type, and being tightly integrated with Mbed OS. Through the Arm and China Unicom partnership, Chinese enterprises and foreign companies operating in China will be able to easily deploy and manage IoT applications at scale across verticals, including smart utility, smart cities, smart logistics and more.
Mbed OS integrates all the essential components and mainstream standards necessary in the IoT, providing rich types of connectivity functions. The next release of Mbed OS (March 2019) will be one of the first IoT OS's to have out-of-the-box compliance with PSA Certified Level 1 and PSA functional API Certification with support for multiple semiconductor vendor hardware, including Cypress, NXP, ST and Nuvoton. Mbed OS brings security from the edge and protocols to the whole lifecycle. It will help developers enhance development efficiency, shorten development time, as well as focus on innovation and differentiation of their IoT products.
"IoT presents a significant opportunity for enterprises, but requires solutions that are easy to implement, secure and can manage devices over their entire lifecycle, "said Dipesh Patel, president, IoT Services Group, Arm. "With China Unicom licensing Pelion Device Management and using Mbed OS, we are together bringing tremendous scale and simplicity in enabling the secure development and management of IoT devices so that enterprises can obtain value from their deployments."
"We are very pleased to reach the partnership with Arm, together to provide the fast-expanding market with a better, safer IoT solution," said Chen Xiaotian, General Manager of China Unicom IoT Limited, "China Unicom IoT has made efforts to be the driver of the IoT era. Facing the ever-increasing number of devices, we believe that our collaborations with Arm will help our clients to efficiently grow their businesses, provide better service experiences and earn higher investment return. Furthermore, we will build the whole IoT ecosystem together, facilitating IoT upgrades and service transformation."
For more information, visit: www.arm.com