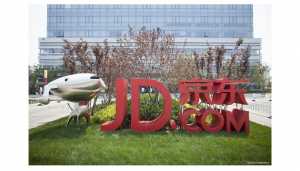 China's second-largest e-commerce company JD, introduced an artificial intelligence-equipped rolling robot in November 2018 that can deliver goods up to 5km from its base.
The autonomous home-delivery vehicle, which can be unlocked using face authentication, is helping JD cope with rising labour shortages and the rapid increase of wages in China's logistics industry.
JD's logistics base in Changsha, Hunan Province, released an initial fleet of 20 robots at the end of November. In addition to AI, the four-wheeled robot, almost the size of a small golf cart, is equipped with cameras and sensors and travels at up to 20kph while avoiding obstacles, dodging traffic jams, and obeying road signals.
Each of the robots has 22 compartments, which customers can unlock using a password or face authentication. If a customer fails to remove their item within a specified time, delivery is rescheduled and the robot moves on to its next destination.
The base in Changsha can handle up to 2,000 parcels per day and all the robot deliveries can be monitored in real-time via a computer system.
Apart from the automated warehouses, JD is also increasing the development of other unmanned delivery systems. In September, the company began the first transport of hairy crabs by drone. Officials at JD claim that the new service has fuelled demand for the crabs, as it can maintain freshness better than land deliveries.
Delivery services are increasing rates to handle the increased demand during peak shopping seasons. If this trend continues, there could be a backlash from online shoppers, quickly forcing robots and AI to the forefront of the logistics industry.