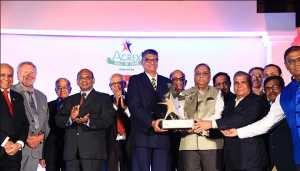 ACREX Hall of Fame, a joint initiative by ISHRAE and Danfoss India to recognise the excellence in HVAC&R achieved by India's commercial buildings towards conserving energy, is in its fourth edition this year. Energy Efficiency Drive 2019 aims to promote the incorporation of sustainable and energy efficient technologies in India. This edition is specifically focusing on the Hospital & Hotel industry was flagged off in Mumbai today, with nominees showcasing their commitment towards building a sustainable future.
ACREX Hall of Fame is unique in nature as buildings compete against each other to showcase their energy efficient technologies as also learn from each other. Through the benchmark buildings ISHRAE and Danfoss are working towards educating stakeholders on the importance of Energy Efficiency in HVAC-R industry.
Mumbai has been repeatedly recognised for creating benchmarks in India's commercial building industry. The first inductee to the ACREX Hall of Fame in 2016 was the Chatrapathi Shivaji International Airport, Terminal 2, Mumbai followed by the Infosys EC-53 (M&C Building), Bangalore in 2017. Reliance Corporate IT Park – Building 22, Navi Mumbai was inducted into ACREX Hall of Fame in 2018 during the event which took place in Bangalore earlier this year.
Speaking at the inaugural of ACREX Energy Efficiency Drive for ACREX 2018, Mr.Ravichandran Purushothaman, President, Danfoss India said, "With the country moving towards fast-paced urbanisation, energy efficient infrastructure has become a critical element in ensuring India's sustainable development. Through ACREX Hall of Fame, we aim to recognise those buildings which can shine as an inspiration for upcoming infrastructure projects in the country. After inducting an airport and 2 office buildings over the last three years, this year, our focus is set on showcasing India's smart and energy-efficient buildings in the Healthcare and Hospitality sector that have created a benchmark among commercial buildings".
Eligibility Criteria – Hall of Fame 2019
Smart, Intelligent and Energy Efficient Buildings – Hospitals, Hotels, Resorts and Serviced Apartments/Apartment Hotels.
Minimum Size Requirements
Hospitals – Minimum 100 beds (with Tertiary Care)
b. Hotels, Resorts and Serviced Apartments/Apartment Hotels – Minimum 100 rooms
Must have been commissioned on or after 1 January 2013 and operational for a minimum period of one year.
Fully functional BMS and Minimum one year's recent (up to the date of nomination) operational data to be available on a Dashboard.
Retrofitted and Recommissioned Buildings will also be eligible. Details of retrofits commissioned since 1 January 2013 to be provided.
Performance parameters of interest are – HVAC system Energy Performance Index (EPI), IAQ, light power density, water consumption and full compliance with relevant codes/standards including those for fire safety and waste management.
Building owner should be informed of the nomination and should be willing to share building data. Owner's authorised person's contact details are required.