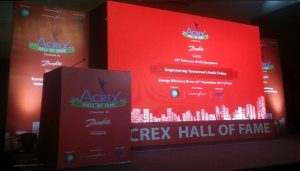 Danfoss Industries Pvt. Ltd. an industry leader in energy efficient solutions for refrigeration, HVAC, heavy industries and district energy has launched 3 new innovative products – Danfoss EC+ Drives solutions from Danfoss Drives Segment; Danfoss Optyma Pack Condensing Unit and Danfoss DSH Scroll Compressors with Intermediate Discharge Valves (IDV) from Danfoss Cooling Segment – at ACREX 2018 in the presence of Mr. Vir Advani, Managing Director, Blue Star, Mr. Ravichandran Purushothaman, President, Danfoss India and several other dignitaries.
Danfoss Optyma Pack Condensing Unit – which is globally being launched for the first time – is set to rewrite the scope of profitability in the dairy industry and cold rooms for food processing sector owing to its high reliability, energy saving technology and unique design that will especially address the middle-cost segment. This new Condensing Unit is equipped with Danfoss components that cater to the needs of positive temperature cold rooms. The units have reciprocating compressor technology and can be specifically customized depending on the requirement of the customers. The product has been specially innovated at the Danfoss R&D centre in India for the Indian Market keeping in mind the varied power conditions in rural India and can also function using solar energy. This product will work well in all hot & tropical countries. From India, it can be exported to the rest of the world including Latin America, South-East Asia and countries such as Australia, New Zealand and Africa.
Specially designed for the next generation of Air Conditioning chillers, the Danfoss DSH Scroll Compressors with Intermediate Discharge Valves (IDV) from Danfoss Cooling Segment will play an integral role in improving system load efficiency by up to 10 percent to meet the standards set by the Department of Energy (DOE) and ASHRAE 90.1 standards with minimal design or retrofit costs. The compressors are equipped with built-in Danfoss Intermediate Discharge Valves (IDVs) that avoid over-compression by the motor during part-load operations – thus reducing its energy consumption. Additionally, Danfoss has made several upgrades to the compressor to set a new bar for compressor reliability with improvements to the heart of the system which minimizes failures and ensures a lifetime of savings. Data centres, IT cooling and allied comfort cooling segments can benefit immensely from the part load efficiency increase with this product.
In the Danfoss Drives Segment, the newly launched Danfoss EC+ solutions are set to create a new benchmark in the Motor Independence Technology with the promise of Highest Fan Efficiency (Fan + Motor + Variable Frequency Drive) of up to 85 percent. In comparison to the traditional EC fans that are available in the market, the new solution is up to 25 percent more efficient in terms of energy efficiency with a payback of 18-20 months. It can be used to efficiently control Induction Motors (IM), Permanent Magnet Motors (PM) and Multiple PM/IM Motors and is the host of HVAC intelligence that includes Fire Mode, Filter Monitoring, Temperature Optimizer and Seamless BMS integration with no requirement of special gateways or external controllers.
This nextGen Drives product is set to improve efficiency and functionality across industries such as Cement, Mining and minerals industry, Cranes & Hoists, Sugar, Paper, Chemical, Waste and wastewater management, HVAC (Heating, Ventilation and Air Conditioning), Marine and offshore, refrigeration, food & beverages industry, lifts & escalators management.
Speaking on the launch of the products, Mr Ravichandran Purushothaman, President, Danfoss India said, "Danfoss is committed to increasing our speed of innovation through active R&D, delivering technologically advanced products & solutions which help in promoting energy efficiency and sustainable development. With our new Cold Chain & Commercial Building solutions, we are also directly focused on realizing the government's goal of doubling farmers' income with technologies that sustain the farm to fork process, ensuring food safety and security along the way and support in building smarter cities that are greener, healthier and more energy efficient".