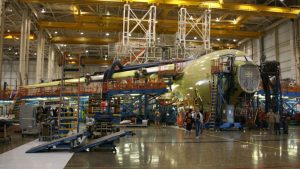 Expanding its operations, Centum Electronics has launched its fourth manufacturing facility in Bengaluru. With an investment of Rs 200 crore, over two years, the new facility was inaugurated by Defence Minister Manohar Parrikar on February 15, 2017.
"The aerospace facility is the fourth manufacturing location we have built in India demonstrating our continued commitment to the government's vision of 'Make in India.' Centum Electronics already has a significant presence in Bengaluru with three other facilities fully operational. The investment in the new manufacturing facility represents the potential available in the industry in India and abroad," stated Apparao Mallavarapu, chairman and managing director, Centum Electronics.
Centum's new facility, Avanza, will integrate factory testing, design, manufacturing, quality control and advanced manufacturing engineering for Centum's defense automation business in India and abroad. The premise is located at the aerospace park near Devanahalli, Bengaluru.
The project is a direct result of the opportunities created for Indian companies with a focus on self- reliance and indigenous design and manufacturing for the defence and aerospace industry.
The facility will design and manufacture products for the defence and aerospace industries as well as for industrial and medical customers all around the globe. About 95 percent of these products are aimed at exports market.
The Centum Group's offering range from customised product design and development, manufacturing services and turnkey solution for mission-critical applications in the defence, aerospace, space, industrial, medical and communications markets. With reputed international clients across the US and Europe, Centum Electronics expanded its base with its recent acquisition of the French Adetel Group.