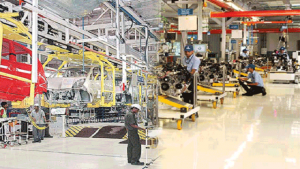 Union Ministry of Electronics & Information Technology (MeitY) has given approval to Chamber of Marathwada Industries and Agriculture (CMIA) for setting up Common Facility Centre (CFC) in Brownfield Electronics Cluster at Shendra Five Star MIDC, Aurangabad, under Electronics Policy of Government of India.
 A Common Facility Centre (CFC) will consist of Electronics Design & Testing, Electronics Manufacturing & Modular Cabinet Design & Prototyping, Training & Innovation facilities under one roof.
After successful implementation of Marathwada Auto Cluster (MAC), CMIA took a step to start Brownfield Electronics Cluster as per Government of India's Electronics policy. Since last three years CMIA is pursuing this matter for last 3 year which  will certainly help in attracting new investment in the Maharashtra State.This project will be established by CMIA as 'Deogiri Electronics Cluster Pvt Ltd' on 2 acres land at MIDC, Aurangabad
"The implementation of this State of the Art project will boost ecosystem of Electronics System Design and Manufacturing (ESDM) sector of Marathawada region. This Cluster will build support structure for Start-ups in ESDM for Product design & validation, prototyping, pilot run and environmental testing. This cluster will provide support Small Scale Industries, Academics and Start-ups of Marathawada region," CMIA said.