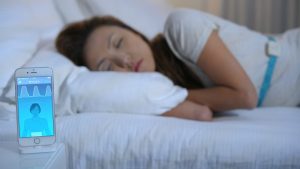 Come try this innovative product at CES Las Vegas Jan 3, 5-9 2017
2breathe Technologies Ltd, a leading pioneer of digital therapeutic devices, announced that its 2breathe Sleep Inducer has been selected as an Innovation Award Honoree in the CES Fitness, Sports and Biotech product category. The product is will be showcased at media only CES Unveiled Las Vegas event on January 3rd and during the CES annual conference January 5-9 at booth 51044, Sands, Hall G.
"We are excited and incredibly honored to be selected for this prestigious award," said Erez Gavish, 2breathe Technologies' co-founder and CEO, "Recognition by the Consumer Technology Association also further validates the importance of addressing sleeplessness as part the next biotech and fitness frontier."
2breathe induces sleep via guided breathing using a full-pattern Bluetooth respiration sensor and patented real-time coaching technology. Guiding tones composed from the user's breathing prolong exhalation to reduce neural sympathetic activity and induce sleep. A detailed session report shows users the number of breaths taken, how well they followed the tones and when they fell asleep.
The underlying technology for 2breathe is based on the founders' first product, RESPeRATE. Invented by Mr Gavish and his father, scientist Dr. Benjamin Gavish, RESPeRATE is also the world's only FDA-cleared non-drug hypertension treatment device. When 90% of RESPeRATE users reported an improvement in sleep, they decided to adopt the guided-breathing technology onto a smartphone and created the 2breathe Sleep Inducer solution.
"164 million Americans struggle with sleep at least once a week," said Mr. Gavish, "While this is not terribly surprising given modern day work schedules and life stresses, it's an urgent problem given the significant toll sleeplessness has our health. Our goal at 2breathe is to help people find relief by actually inducing sleep through the ancient wisdom of guided breathing so they can get the rest they need."
According to New York-based therapist Susan Antelis, LMHC, "It's great to see an established organization like CES acknowledge 2breathe's innovative approach to a prevailing issue. Sleeplessness has 'come out of the closet'. Seeing the excellent effects of RESPeRATE to lower blood pressure with my clients, I'm delighted to see how it has evolved to also aid sleeplessness sufferers".
2breathe was introduced to the Japanese market earlier this year by Teijin, Japan's largest sleep home care equipment provider and is now available to consumers worldwide directly at www.2breathe.com.