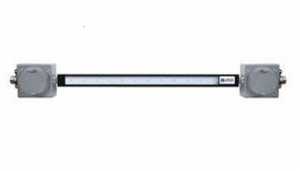 Industrial lighting leader, Larson Electronics LLC, announced the release of a low voltage explosion proof end to end LED light strip that produces 1,812 lumens and operates on 12VDC or 24 VDC. This low-profile LED light strip is daisy chain capable and includes terminal strips allowing operators complete connections without their own wiring or conduits, making this light ideal for indoor and outdoor industrial applications.
The HAL-36-25W-LED-E2E-V2 is an explosion proof LED lighting solution ideal for operators looking for top quality low voltage lighting for use in Class I, Division 2, Groups A, B, C and D locations. This 36-inch-long strip profile LED light emits 1,812 lumens. The high output, cool running operation, and good color rendering properties of this light make it an ideal replacement for older, bulkier, and less reliable HID and halogen light fixtures.
End to end daisy chain capabilities allow this LED strip light to be connected to additional units, for great versatility in a wide range of lighting situations. This unit is mounting via two adjustable end brackets, which allow operators to adjust the light 170° vertically for the best placement.
This hazardous location LED light bar is constructed of durable powder coated aluminum. The IP54 rated fixture provides limited ingress protection against dust, dirt and basic protection against splashing water and light rain. The HAL-36-25W-LED-E2E-V2's weather-resistant design is suitable for both indoor and outdoor applications where wet, dusty conditions are present.
"This explosion proof LED light bar is perfect for demanding, hazardous locations that need a low-profile lighting system," said Rob Bresnahan, CEO of Larson Electronics LLC. "Daisy chain capabilities increase the unit's versatility, making it great for a wide variety of industrial operations, particularly in marine and wet environments."