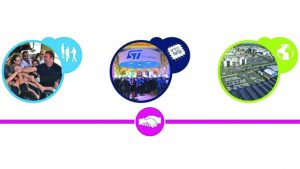 STMicroelectronics a global semiconductor leader serving customers across the spectrum of electronics applications, announced the publication of the Company's 2017 Sustainability Report. The report contains details and highlights of ST's sustainability strategy and its 2016 performance, in alignment with the United Nations Global Compact. Ten Principles and Sustainable Development Goals. 
"This twentieth edition of ST's Sustainability Report highlights the efforts and achievements we made in 2016 as well as over the course of the past 20 years," said Carlo Bozotti, President and CEO of STMicroelectronics. "We are proud of what we have achieved in an ever-changing business environment. Our business is delivering sustainable growth, our people are committed to ST and to their local communities, the impact of our operations on the environment is strictly managed, and we provide solutions that make the world safer, more efficient, productive and simpler. Yet, for ST, sustainability is about continuous improvement by always striving for excellence. We recognize there is still more to do and we are committed to doing more, for all our stakeholders."
Among the key sustainability highlights and successes in 2016:
Business
Completed the certification program announced two years earlier, with all major ST sites achieving certification to the latest and most stringent ISO 22301 Business Continuity Management standard;
Strengthened Lean practices beyond manufacturing, into all organizations, including Research and Development, and increased the number of non-manufacturing employees trained on Lean in 2016 to more than 1,000;
Deployed internally an innovation collaborative framework across all ST organizations while continuing to run industrial partnerships and research programs, reaching a total of 228 active research partnerships with universities and research laboratories in 2016;
Continued to boost our product and technology innovation efforts with an R&D investment of about US$1.3 billion in 2016.