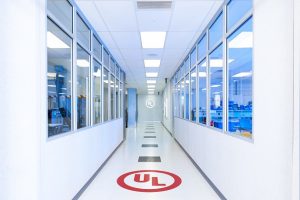 UL, an independent, global safety science company, inaugurated an 80,000-sq.ft. Laboratory in Gurugram, Haryana, to enhance access for their existing and potential customers in the North and East India markets. This cutting-edge facility is UL's second 'Centre of Excellence' in India after Bengaluru and is in line with the company's ambitious 'In India, for India' strategy to support domestic manufacturers' need to meet regulatory compliance to access the domestic and global markets.
The investment is aimed to facilitate the country's growth drivers of rapid urbanization and domestic manufacturing. While India's LED and energy efficiency programs have won international recognition, there is increasing thrust for the smart cities mission. Greater impetus for manufacturing with economic recovery and structural reforms is boosting the prospects of sectors like textiles, toys and consumer goods. The simultaneous policy initiatives to strengthen the domestic standards ecosystem has led to an increased demand for testing facilities that can match global standards.
Replete with the latest and best in class equipment and talent, the Gurugram Centre of Excellence offers customers in north and east India easy approach to UL's renowned third-party end-to-end testing, inspection and certification services to accelerate time-to-market. Customers will also benefit from bespoke solutions on multiple product portfolios at one location.
UL's Gurugram laboratory integrates and expands UL's erstwhile operations in Manesar for consumer technology and appliances, HVAC/R and lighting businesses with the existing operations in Gurugram for consumer and retail services.
Commenting on the launch of the facility, Suresh Sugavanam, Vice President and Managing Director of UL, South Asia said, "UL's growth in India is a reflection of the changing policy landscape of the country, one which has seen definite progress in improving quality and safety standards to match those of mature economies around the world. Given the impact of "Make in India", it is encouraging that the manufacturing communities are recognizing the importance of establishing the safety and quality standards for the domestic market as well, rather than just focusing on the exports. With this Centre of Excellence, we aim to bring all the testing portfolios under one roof to offer easy access to our customers that will help reduce the turnaround time. It will also give us an opportunity to increase our footprint in the region expand further in newer areas of testing."
Validated by advanced equipment like goniophotometer, integrating sphere, life test racks and environmental chambers, customers in the LED lighting industry can now obtain complete testing for all lighting products, including safety, photometry and life cycle testing.
For the white goods market, the Gurugram facility is capable of evaluating performance and safety parameters through extensive testing including refrigeration chambers, psychrometric testing and ingress protection. The facility can also test the latest consumer technology products such as LED televisions, mobile phones and tablets.