ROHM has proposed a number of solutions for IoT that integrate wireless, sensing, MCU, and other essential elements. For example, we are planning on early commercialization of a wireless sensing module in response to market demands.
Factory IoT and Machine Health Monitoring: Although IoT has begun to expand in a variety of fields, the internalization in industries including IIC (Industrial Internet Consortium) in the US and Industry 4.0 in Germany is progressing towards clearly defined goals, such as improving productivity and quality.
A single malfunction of factory equipment can result in substantial losses, leading many manufacturers to consider machine health monitoring systems that prevent failure by monitoring equipment and conditions within factories. Machine health monitoring, which is a type of visualization method for factories, is designed to transition from preventive maintenance to predictive maintenance by continuously collecting and analyzing information on the condition of equipment and facilities within factories.
At CES 2017, ROHM showcased a Machine Health Monitoring demo as an example of factory IoT. In order to perform monitoring for predictive maintenance, it is necessary to configure a system that constantly monitors equipment and facilities. However, this entails considerable time and costs, presenting substantial barriers to introduction. In response, ROHM created a demo utilizing wireless, MCU, and sensing elements, considered to be the building blocks for IoT devices.
The demo is designed to simulate a typical pump used in factories, circulating a tank filled with liquid. 11 sensor nodes are attached to the pump and tank, and data acquired from each node is wirelessly transmitted to a control device. When the control device detects an abnormality in the data, it can immediately issue an alert and/or stop operation. In addition, transmitting the data to a cloud server via a gateway makes remote monitoring possible from virtually anywhere in the world (Fig. 1)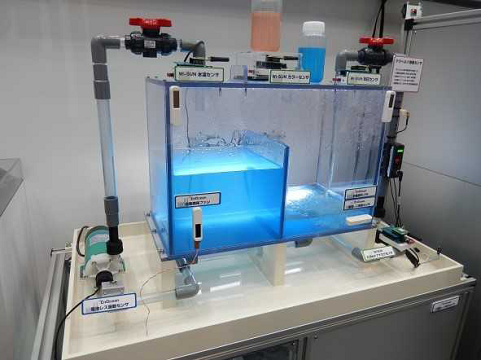 EnOcean combines energy harvesting technology with wireless communication functions, allowing sensor data to be wirelessly transmitted from virtually anywhere, without the need for wired power or even batteries. In addition to a compact form factor, no maintenance (i.e. battery replacement) is required. And since no cables for communication or power are needed, IoT functionality can be achieved by simply connecting to existing equipment.
Another protocol, Wi-SUN, which utilizes the 920MHz specified low power band, has been widely adopted in smart meters. It enables bidirectional communication and features a communication distance of 300m to 500m, making it ideal for factory environments.
ROHM offers numerous sensors utilizing these protocols, along with open platform board Lazurite Basic which utilizes ROHM Group Company LAPIS Semiconductor's 16bit MCU for sensor control. This enables easy evaluation and initial set development of different sensor combinations (Fig. 2).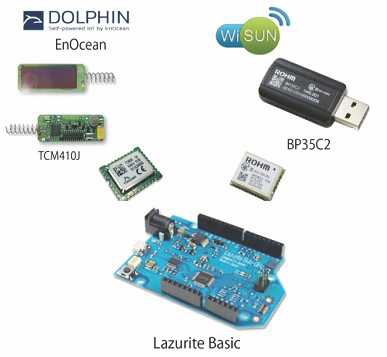 The key takeaway of ROHM's Machine Health Monitoring demo is that it can easily provide IoT functionality by making installation simple. ROHM has shown that its total solution is able to drastically reduce the problems of cost and time required to retrofit existing systems.
Expanding ROHM's Battery less Wireless Lineup with EnOcean 2.4GHz Products: In 2017 ROHM plans on launching a new series of EnOcean products. Its current sub-GHz line will be expanded to include 2.4GHz models.
Advantages of the conventional sub-GHz band (868MHz, 902MHz, 928MHz) include minimal interference with devices using the same frequency band(s) (i.e. Wi-Fi) and the ability to transmit around obstacles (robust wave propagation). However, because the exact sub-GHz frequency used varies depending on each country, it is necessary to develop separate products for each frequency/region. ROHM's new 2.4GHz lineup ensures universal compatibility, eliminating the need to select specific products for each country. And like the conventional series, energy harvesting drive is enabled, allowing for battery less operation.
Initially, ROHM will begin offering samples of wireless receiver modules, wireless transmitter modules for use in combination with ECO200 energy converters for motion energy harvesting, and battery less wireless switches incorporating electromagnetic induction power generating elements.
Supporting the Latest Wi-SUN Standards, from Low Power to Large-Scale Systems: Following the mass production of its new Wi-SUN modules (BP35C0, BP35C2), ROHM is promoting adoption of the latest Wi-SUN standards. In 2017 the Wi-SUN HAN (Home Area Network) protocol that links home appliances and other devices will be expanded (Extended HAN), and include low power consumption, repeater, and other functions (Table 1).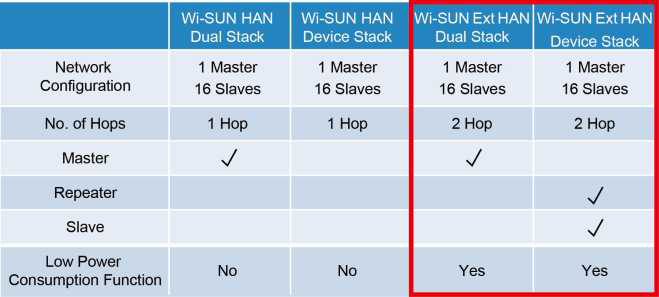 Low power consumption supports the use of smaller batteries, significantly expanding the applicable range to include smaller devices. In addition, since the repeater function enables communication with the slave unit from the master unit, wider area networks can be constructed. ROHM has ensured quick support of Extended HAN, and is planning on bringing several products to market.
Furthermore, in 2017 we are promoting the new international wireless communication standard Wi-SUN FAN (Field Area Network). Wi-SUN FAN is an interoperable communication network technology expected to see adoption in applications used to construct smart cities and smart grids, including infrastructure and advanced transportation systems as well as electricity, gas and water meters.
International standards for internet connection are used, centered around IEEE802.15.4/g/e protocols installed in Wi-Fi systems. This simplifies application development while making it possible to achieve large-scale IoT using multi-hop technology. We have already succeeded in experiments using multiple multi-hop IP communication based on basic radio functions.
ROHM further accelerates solution development for IoT. We will begin offering batteryless IoT solutions, expanding our lineup of products that combine sensors with energy harvesting technology. And for our wireless business we are developing communication modules for LPWA and plan on offering a broad lineup of components, from short-range wireless utilizing the 2.4GHz band to the sub-GHz band that provides long-distance communication. We are also developing next-generation wireless sensor modules that combine sensors, MCUs, and wireless functionality, allowing us to lead the industry by introducing devices required for IoT.
Courtesy ROHM