With Silicon Labs' new single-chip solution, designers can develop customized USB Type-C rechargeable lithium-ion battery packs for dual-role port applications. We're seeing more portable devices turning to USB Type-C, as evidenced recently with the Huawei Mate 9 and the LG G5 phones. More designers also realize that as Type-C evolves, it brings with it a wider array of advantages. For example, they can now create dual-role port (DRP) applications with USB Type-C power delivery (PD).
In another advance, Silicon Labs has developed a reference design that helps designers simplify the production of USB Type-C rechargeable lithium-ion battery packs. The SLRDK1000A USB Type-C battery-pack reference design combines power delivery (PD) and a microcontroller unit in a single device (Fig. 1).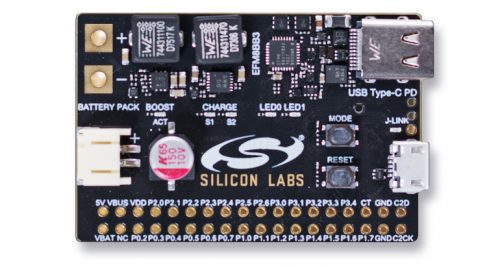 As noted by Tom Pannell, Silicon Labs' Senior Director of Marketing, "This reference design is focused on power management; it is capable of getting charged and it is capable of charging devices that are plugged in. It also accelerates the time to market of USB Type-C battery packs due to all the features included in the design."
The new solution contains an EFM8BB3 Busy Bee as a USB Type-C PD controller. In addition to reducing the bill of materials (BOM), it's suitable for different types of power-charging devices like smartphones, tablets, laptops, and other portables. The PD controller communicates with connected USB Type-C devices to negotiate a contract to check out if the battery will be charged or if the battery will charge the device connected to the board (Fig. 2). It also controls the power regulators according to that contract. The board can supply up to 15 W in source mode with 5 V at 3 A and, in sink mode, can sink up to 1.8 A at 5 V.
A MODE bottom enables switching between sourcing or sinking power, while two LEDs indicate the status. The board also features a JST connector for attaching commonly available lithium-ion battery packs. The PD controller uses a general-purpose input/output (GPIO) to control a buck and a boost converter. It can also be configured so that I2C is able to control a power IC.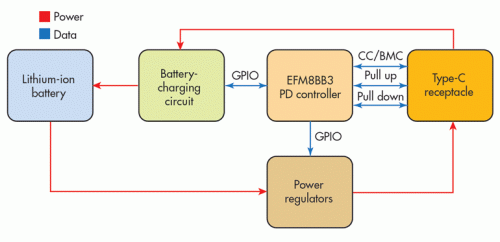 The board, designed for 15-W battery packs, is limited by the lithium battery. There will be more reference designs in the near future, but this initial version is specifically targeted for battery packs.
"We're a mobile, connected society, and users need convenient rechargeable power sources for their smartphones, tablets, and other portable devices," says Pannell. "Two-way, rechargeable battery packs are must-have products for people on the go, and our new turnkey USB Type-C reference design makes it incredibly easy for developers to create DRP charging solutions that are flexible, cost-effective, and feature-rich."
Silicon Labs plans to deliver a new version of the reference design in mid-December, one that supports 60 W (ideal for automotive applications). Adding a microcontroller to the PD controller enables it to do other system tasks—essentially, different product lines with different power requirements could use the same PD controller.
USB type-C is changing the way we charge electronic devices, with portables leading that charge. Expect more USB Type-C solutions to arrive in this arena, but other markets are in play now as well, such as in the automotive world, as hinted at above.