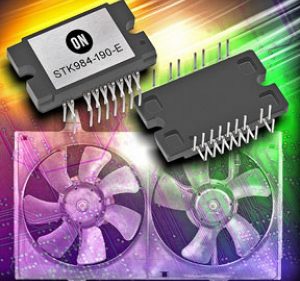 Mouser Electronics, Inc., the industry's leading New Product Introduction (NPI) distributor with the widest selection of semiconductors and electronic components, is now stocking the STK984-190-E Power Integrated Module (PIM) from ON Semiconductor. Optimized for driving three-phase brushless DC (BLDC) motors in automotive applications, the module's seven MOSFETs are mounted onto a direct bonded copper (DBC) substrate, resulting in a compact module with excellent thermal performance taking up only half of the board space used by an equivalent discrete solution.
ON Semiconductor's STK984-190-E Power Integrated Module, available from Mouser Electronics, contains six AEC-Q101 qualified 40V, 30A MOSFETs configured as a three-phase bridge with an additional 40V, 30A high-side reverse battery protection MOSFET. The module's DBC substrate reduces thermal resistance, which lowers the operating temperature of the MOSFETs and decreases power losses while increasing reliability due to a limited change in temperature during thermal cycling. Reliability is also improved by the isolation provided by the DBC substrate.
Designers can combine the STK984-190-E module with motor controllers to build high-efficiency BLDC solutions with best-in-class thermal performance, built-in diagnostics, and an ultra-small PCB that saves critical size and weight. The module is supported by the STK984-190-EGEVB evaluation board, and is suitable for use in 12V automotive electric motor drive applications with power ratings up to 300W, such as electric pumps, fans, and windscreen wipers.
To learn more, visit http://www.mouser.com/new/onsemiconductor/onsemi-stk984-190-e/.
With its broad product line and unsurpassed customer service, Mouser caters to design engineers and buyers by delivering What's Next in advanced technologies. Mouser stocks the world's widest selection of the latest semiconductors and electronic components for the newest design projects. Mouser Electronics' website is updated many times daily and searches more than 10 million products to locate over 4 million orderable part numbers available for easy online purchase. Mouser.com also houses data sheets, supplier-specific reference designs, application notes, technical design information, and engineering tools.