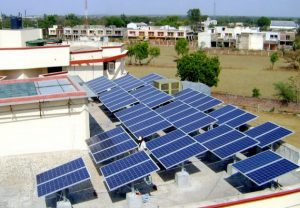 After the success of the 750MW Rewa Ultra Mega Solar project in Rewa, the Government of Madhya Pradesh (GoMP) is now aiming to create a new model for success in Rooftop Solar energy generation. This is in line with India's ambitious target to achieve 40 GW of solar rooftop installation by 2022. The MP Urja Vikas Nigam Limited (MPUVNL), under a recently unveiled tender, intends to develop 26 MWp of Rooftop Solar projects through Renewable Energy Service Company (RESCO) mode.  The projects are being implemented largely in the government buildings using the subsidy of GoI and GoMP.
Second pre-bid meeting for this tender is being held in New Delhi on June 22 at the Madhya Pradesh Bhawan. RESCOs from across the country are expected to participate in this pre-bid meeting.
Under the RESCO model, the project developer will invest, build and operate the Rooftop Solar project by using the mix of 'its own funds' and 'taking debt', to generate electricity and sell it to the beneficiary (generally the owner of the premise) and thereby earn revenues.
To facilitate efficient and hurdle free implementation of projects, MPUVN has put in place a number of measures. More than 250 project sites across the state have been identified where Rooftop Solar technology projects can be implemented. In the first phase, these sites are predominantly public buildings, with all clearances and approvals for setting up projects at these sites already obtained.
Due to challenges for bidders to visit these sites across the state, as part of its preliminary diligence, MPUVN has created an innovative Data-room in partnership with the World Bank. The Data-room is a comprehensive repository of information on site-specific technical assessment and electricity consumption history. This provides detailed information of each site including that of shadow on the building, the expected requirement of panels, cable etc. and electricity bills of the building. This will reduce the risk profile of the projects and enable more informed participation by the bidders.
Furthermore, beneficiary consumers have pre-cleared the terms of PPA. Since such market is already created, the project developer need not worry about the demand creation and can focus on faster and efficient implementation of their projects.
Speaking on the up-coming pre-bid meeting and RESCO model, Shri Manu Srivastava (I.A.S.), Principal Secretary, New and Renewable Energy Department said, "There is a lot of information asymmetry in the solar sector, especially in RESCO projects. We have tried to address this problem by providing detailed information about each project site to the bidder. Without having to travel across the state the bidder can 'visit' each building at the click of a button. The bidder can even find out if there is any shadow on any part of the building. The risks in the tender have been correctly apportioned between the building owner, the developer, and MPUVN."