The mobile phone industry is growing at a rapid pace with India becoming the world's fastest-growing mobile app market over the past few years. The country has over a hundred million mobile data consumers and the number of smartphone sales has also been on the high. Mobile app developers have also managed to keep up with the latest trends and created a number of amazing apps for the Indian consumer.
In order to counter the monopoly enjoyed by the big tech, the government of India has come up with a home-grown app store called," MobileSeva" App store. This is going to give the much-needed 'boost' for the indigenous app store, and it is aimed at providing impetus to India's "Make in India" initiative.
India is the biggest consumer of mobile applications globally. According to a report from India App Market Statistics 2021, 5% of the applications on the Google Play store are contributed from the Indians. The Indian government is looking to be less dependent on the other nation's app stores and developers for accessing digital solutions. Rather, the government is encouraging developers to host indigenous applications on the government-owned mobile app store.
The government-owned app store will host all the apps during the initial stages without any costs. Now the center is asking private applications to become a part of its indigenous app store as well.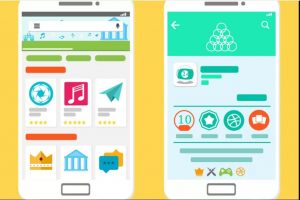 This move will ensure that Indians won't have to depend on the likes of Google and Apple for accessing applications. Further, more and more developers will get a chance to create new applications and showcase their talent on the platform. At present, there are more than 965 live applications on the 'Mobile Seva Appstore'.
With the government's recent announcement, it is expected that more applications might become part of the platform soon. Further, private applications that already exist on other app stores might decide to become a part of the government-owned mobile application store.
This will also ensure that the revenue generated by the downloads and usage of applications from this Indian app store will stay in the country only.
Few examples of Indian home-grown applications that have worldwide popularity are below.
Music and Entertainment apps
Gaana (Rating: 4.5)
Gaana is one of the largest Indian commercial music streaming services right now. The app has over 3 million songs across various genres and the music catalog is available to users globally. Gaana is one of the most downloaded Indian apps with more than 150 million monthly users.
Wynk Music (Rating 4.3)
Wynk is another popular music app that lets you enjoy over 1.4 million Indian and international songs. The app also allows users to check the lyrics while playing a song.
Hotstar (Rating 4.1)
A very popular live-streaming app that allows users to watch their favorite TV shows, latest movies, sports, and live news on-the-go and at the tap of a finger.
Bookmyshow (Rating 4.0)
The perfect app for people looking to book movie tickets or anything that is happening in the city such as plays, concerts, and many such events. It also allows you to check out showtimes, reviews, trailers, and more.
Online Marketplace apps
Flipkart (Rating 4.5)
It is India's biggest e-commerce platform that offers a very intuitive app and offers everything, including mobile phones, fashion (clothing and accessories), electronic items, home appliances, furniture, grocery, and jewelry, amongst others. Flipkart also allows you to compare products, look for reviews, and more. The company may also offer some exclusive discounts when you purchase an item using the app.
Myntra (Rating 4.4)
One of the most popular Indian fashion e-commerce platforms that offer a wide range of clothing and fashion accessories. The app allows you to use several filters to look for the perfect style in an instant.
Online Food apps
Swiggy (Rating 4.2)
Swiggy is one of the largest food ordering and delivery platforms in India, clocking around 1.4 million daily food orders in the country, as of last year. The app allows you to order food online from many local restaurants in your area and also provides you with real-time updates on the meal ordered.
Zomato (Rating 4.2)
Zomato is an Indian restaurant aggregator which promises to give the best insight into local restaurants in your locality. It also provides you with menus and user-reviews for millions of restaurants across the world. Zomato also offers food delivery options from partner restaurants in certain cities.
Other Utilities
Inshorts (Rating 4.6)
It is one of the must-have apps for people who are in a time crunch but still want to keep up with the latest news and updates. The app summarizes the whole story in just 60 words or less.
Paytm (Rating 4.5)
This App is a widely used e-commerce payment system that also allows users to shop online apart from transferring money, mobile recharge, and payments. Paytm is one of the most downloaded Indian apps and has over 350 million users, as of last year.
1mg app (Rating 4.5)
1mg is one of India's leading online pharmacy and healthcare apps that allows users to buy medicines, book lab tests, and health check-ups. The app also offers health-related articles from experts.
Hike Messenger (Rating 4.4)
Hike Messenger, also known as Hike Sticker Chat, is India's own cross-platform instant messaging app which packs a number of interesting features. It offers a range of stickers, emojis, privacy features, and a lot more.
Moj – Snack on Indian Short Videos | Made in India (Rating 4.2)
Moj is India's own short video app created locally by ShareChat – a hot new stage to show your flaming talent to the world out there – never-ending entertaining videos to watch and snack on.
By Mayank Vashisht | Technology Journalist | ELE Times