As anyone with a TV or PC probably knows, the Internet of Things is a network that allows the "Things" to communicate to each other without need of human intervention. Prior to emergence of the IoT, the internet connected devices require humans to generate or consume information. Some examples of internet connected personal devices are smartphones, laptops, and desktops.
And it has a long reach: the IoT enables devices such as smart personal devices, smart home devices, smart automotive or even smart city devices sense the desired data, process it, store it, and take relevant action. A smart pillbox can monitor if pills are taken on time, give reminders, inform well-wishers, and even order medicines before they run out. A smart lock can be opened or closed by a smartphone, monitor all activities, give time-based access to visitors, and alert the owner in case of unauthorized access.
You probably already own or use several IoT connected devices, and according to Stastita (1), by 2025 IoT devices are expected to number more than 75 billion, far outnumbering the UN's forecast of 8.1 billion people on earth by that year (2). You can see why IoT is probably one of the biggest drivers for technology companies. Our IoT devices will make our lives more secure, safe, and comfortable, and help optimize the usage of resources.
The architecture of an IoT device forms the window for the extended value chain to interact with the external world. IoT devices are also the main interface with the user so their form factors and features are very important marketable components of IoT.
A typical IoT architecture consists of devices, gateways, the cloud and IoT applications. In this article, our focus is on devices and connectivity technologies with special emphasis on personal wearables.
Specifications of Personal IoT Devices:
Activity detection
The most common functions of wearable device are activity recognition and pedometer. They are detected by an accelerometer, one the most versatile sensors present in virtually every personal device. Over the years, accelerometers have become very advanced from simple acceleration detection to detecting many advanced movements directly as sensor output.
As an example, the LIS2DW12 accelerometer from STMicroelectronics can detect 6D orientation, wake-up, free-fall, and Tap functions. The sensor has a configurable noise mode to select between accuracy and current consumption and even has automatic sleep and wake-up functions.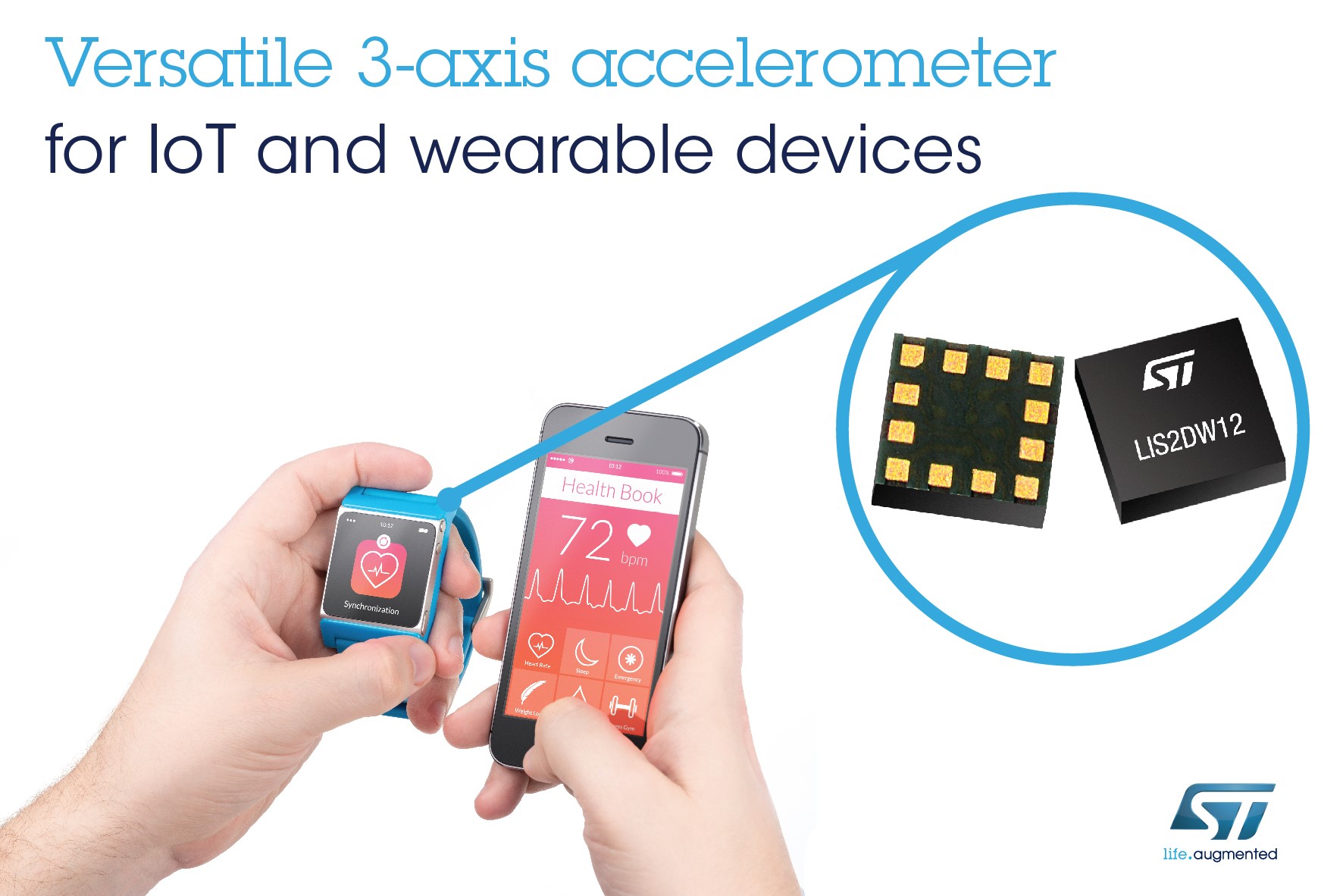 To enhance the accuracy and functionality of wearable electronics, a gyroscope, a sensor to detect angular velocity, is paired with the accelerometer. Previously gyroscopes consumed a lot of power so their usage in small battery personal devices was limited. But the advanced IMUs that combine gyroscope and accelerometer in a single IC not only consume little power but also contain many advanced features such as Finite state machines, custom gesture recognition, Smart FIFO, and external sensor interface. These features spare the resources of microcontroller from computing these outputs. The LSM6DSO is one such IMU from STMicroelectronics.
Compass and direction sensing
A compass provides direction sense to the user and helps to guide drones. Using a magnetometer along with an accelerometer and gyroscope enables indoor navigation. Magnetometers are also used for some home automation solutions such as door open or close detection.
Altitude detection
Altimeters can enhance the functionality of a pedometer, assisting a rock climber, for example, and detect floor locations in indoor navigation. Wearable pressure sensors detect atmospheric pressure that is eventually used to measure altitude as well.
Since a pressure sensor requires an opening for a diaphragm to detect the pressure, they also prone to water and chemical contamination. Therefore, a pressure sensor is needed that can be used for activities such as swimming, outdoor sensing, and marine industrial as well as remain safe from chemicals such as Chlorine and Bromine. The LPS33HW is one such sensor with features as an O-ring, water resistance to 10-bar (up to 90 meters depth), and is safe from the chemicals mentioned as well as salt.
Contextual awareness
Contextual awareness detects the environment based on audio input from a microphone. Measuring sounds, the device can detect if the user is in a mall, a stadium or a meeting room. By detecting the environment, they can directly configure the settings of a connected smartphone. Using an array of microphones, select listening is enhanced by echo cancellation, beam forming and source localization. Some important parameters of microphone are its SNR (Signal to noise ratio), AOP (Acoustic overload point), and power consumption. Microphones are also classified as having analog output or digital output, and being bottom port or top port (in a smartphone).
Connected
Most importantly, connectivity is what makes a device an IoT device. Connectivity enables devices to be connected to the IoT cloud via a smartphone, gateway, or directly to an infrastructure. Traditionally, IoT devices have been connected by Wi-Fi, Bluetooth, and Cellular technologies. However, the emergence of lower power RF technologies has expanded the scope and functionalities of IoT devices.
Bluetooth Low Energy [BLE] is a Wireless Personal Area Network [WLAN] technology aimed at novel applications in healthcare, fitness, security, and home automation solutions. BLE consumes a fraction of current of conventional Bluetooth and Wi-Fi while adding smartphone connectivity to devices. It works in 2.4Ghz frequency range, which is a worldwide license-free ISM band. BLE Mesh is a software solution for connecting multiple BLE devices in Mesh networks of IOT solutions. Theintroduction of the Mesh solution has made it possible to be connected even when devices are not in direct range of a network.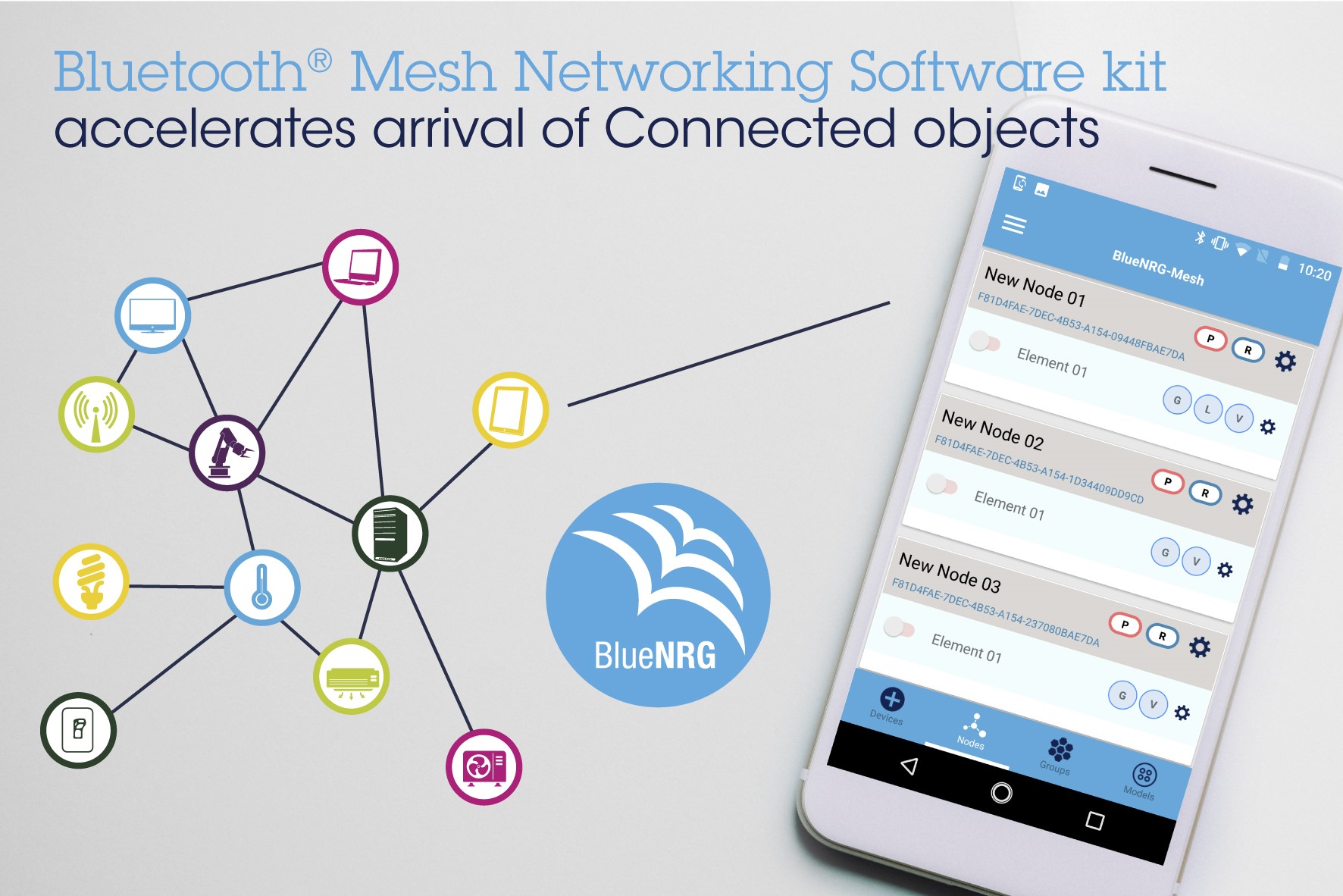 The BlueNRG-2 from STMicroelectronics is an ultralow-power BLE 5.0 certified system-on-chip, which provides seamless connection with sensors, privacy 1.2, secure connection 4.2, 8dbm of output power, and a reliable BLE link to IOT devices. Besides, it supports standard fully compliant SIG BLE Mesh.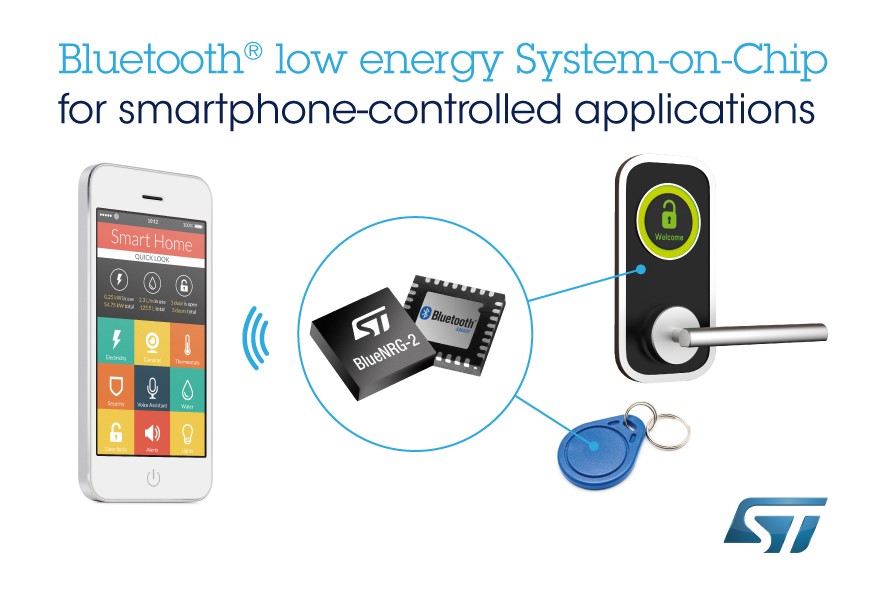 Low-power Wide Area Network (LPWAN) technologies are another revolution in connectivity as they allow connectivity of several kilometers yet consume so little power that they can be powered by a non-rechargeable coin cell battery. Sigfox is a LPWAN technology which offers global cloud, long range connectivity, and consumes very low current. Sigfox devices can freely connect around the world without the need of any separate agreement or roaming charges with network operators. LPWAN technologies work in subGhz range that is not a global standard like 2.4Ghz. So LPWAN devices must be operated at different frequency ranges in different countries. To resolve this issue, Sigfox has introduced a new feature, called Monarch, to recognize radio service and manage radio frequency changes as per local regulations.
STMicroelectronics has introduced a unique solution to combine BLE and Sigfox radio, S2-LP, into a common solution. The dual radio will offers long-range connectivity via Sigfox and Smartphone connectivity using BLE. Smartphone connectivity to Sigfox devices will enable User Interface [UI], over the Air firmware update [OTA], direct configuration and control.
Intelligence on the Edge
Artificial Intelligence and Machine Learning have evolved as the backbone computational technologies of IoT networks. Artificial Intelligence uses an assembly of nature-inspired computational methods, and machine learning refers to techniques that enable machines to recognize underlying patterns in order to make predictions and recommendations by analyzing data. An IoT cloud is capable of implementing these techniques.
As the number of IoT devices exponentially multiply, the raw data sent from the sensors to the cloud sees the escalation in required data bandwidth and computational capabilities in the cloud. Artificial Intelligence can be utilized efficiently when some of the analysis moves closer to sensing nodes or on the edge. Edge computing offers data privacy and reduced bandwidth requirements as well as cloud computation. Edge computing means intelligent sensing and processing at the node itself, so the selection of these devices is very important. A smart node analyzes the data, runs sensor algorithms, estimates the context, and sends the data to the cloud for further processing.
Development of an IoT Solution
As mentioned earlier, typical IOT architecture consists of devices, gateways, cloud and IoT Applications.
A strong IoT solution consists of not only innovative devices but also open source hardware and software reference designs, vertical application solutions, and partnership with cloud makers. Successful IoT implementation also involves collaboration with all the stakeholders of the platform.
For example, the STM32 ODE platform from STMicroelectronics offers stackable hardware and a modular software platform, over 131 software packages, three cloud SDKs, and several third party form-factor boards. Startups have a major role to play in the evolution of IoT as the number of use cases of IoT are huge and varied. An open source platform and strong ecosystem lowers the barrier of development, prototyping and commercialization of solutions based on its platform.
Conclusion
The Internet of Things is popularized with introduction of low-power intelligent sensors, innovative connectivity technologies, and compelling use cases. In the future, every human is expected to own multiple wearable devices so the overall size of opportunity is massive. The exponential growth of IOT devices is both an opportunity and challenge in implementation. A successful IoT implementation requires the right partners with innovative technologies in sensors and connectivity.
For more information, visit: www.st.com