India is emerging as a promising destination for global semiconductor manufacturing due to its rapidly growing market. According to a joint report by Counterpoint Technology Market Research and the India Electronics & Semiconductor Association (IESA), India's semiconductor market was valued at $22.7 billion in 20by 19. However, it is expected to reach $64 billion by 2026, driven by both domestic and export markets, with significant demand coming from the consumer electronics, telecom, IT hardware, and industrial sectors. The telecom and industrial applications alone are projected to account for two-thirds of the total market.
Recognizing the potential, Invest India, the National Investment Promotion and Facilitation Agency, along with the India Semiconductor Mission (ISM) and Counterpoint Research, organized a series of webinars to discuss the opportunities for establishing a semiconductor manufacturing base in India and becoming a key destination for supply chain diversification. The webinars covered four main topics: the semiconductor market across various sectors and applications, government programs and incentives for foreign manufacturers, talent availability and initiatives for re-skilling, and the existing infrastructure and support for semiconductor manufacturing.
India Semiconductor Market Size by Application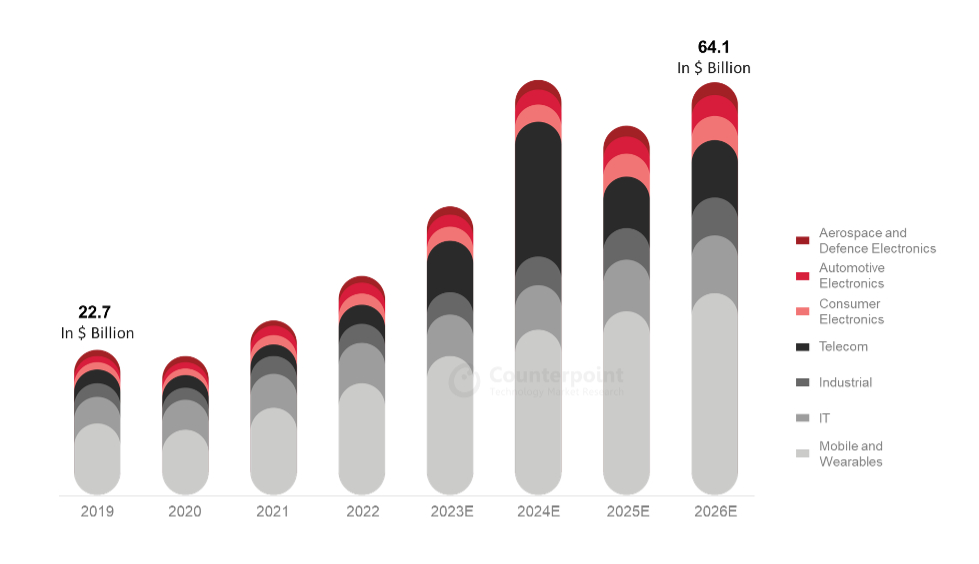 In the short term, there are significant opportunities for components utilizing mature technology nodes (28nm and higher) that support India's growing automotive and industrial sectors. Sensors, logic chips, and analog devices are among the applications experiencing a surge in domestic demand. Local sourcing is already playing a significant role, accounting for approximately 10% of the overall market in 2022.
At the global level, the Indian government is committed to being a reliable partner in the semiconductor supply chain. To attract foreign investments, various incentives and programs have been introduced across different sectors. Amitesh Kumar Sinha, CEO of ISM and Joint Secretary of the Ministry of Electronics and Information Technology, stated that over 70% of the project costs for semiconductor manufacturing are incentivized by the Central and State Governments in India. The Central Government funds 50% of the costs upfront, while the rest is covered by the State Governments.
One such program is the Semicon India Program, which has a budget of around $10 billion. It provides funding for 50% of the semiconductor manufacturing project costs, with a portion allocated for research and development, skill development, and training. The Indian government aims to frame long-term policies that span the next 25 years, solidifying India's commitment to becoming a reliable partner in global supply chains.market
Infrastructure and the availability of a skilled workforce, materials supply, and other components of the local supply chain were also addressed during the webinars. The Semi-Conductor Laboratory (SCL), India's own fabrication unit, served as a case study highlighting the robustness of India's supply chain in terms of utilities, materials, and talent. SCL has been an end-to-end manufacturer for 30 years, providing products for space and railway applications. It has benefitted from uninterrupted power supply and a stable flow of ultra-pure quality water for the last 15 years, showcasing India's readiness to support high-volume semiconductor manufacturing.
In summary, India's semiconductor market is poised for significant growth, reaching $64 billion by 2026. The government's commitment to being a reliable partner in the global supply chain, along with various incentives and programs, makes India an attractive destination for semiconductor manufacturing. With a focus on market sizing, fiscal support, infrastructure, and a skilled workforce, India is positioning itself as a key player in the semiconductor industry.