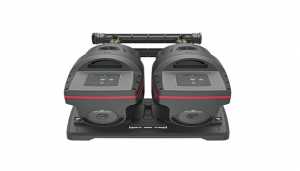 In residences and commercial buildings, pressure boosting has become an important element in distributing water, especially with the onset of summer, to ensure consistent water pressure is maintained. Unmanaged or excessive pressure could waste water while reducing the lifecycle of pipes and other equipment. Often, pressure boosting pumps also consume high levels of energy. Intelligent pressure management solutions can take this functionality to the next level by adapting to the pressure on any dynamic consumption requirements, without the need to compromise on having a loud pump system. This being one of the best added feature of having a noiseless pump system such as SCALA2. A noiseless pump integrated with adaptive pressure boosting is the comfort testament to owning a Grundfos SCALA2 system.
SCALA2
Grundfos India, a leader in advanced pump solutions and a trendsetter in water technology has launched an effective solution to address pressure boosting challenges. SCALA2 is a fully integrated water booster that can always provide the perfect water pressure across all taps.
The solution combines a pump, motor, tank, sensor, drive and non-return value into a singular, compact unit. With its intelligent pump control system, SCALA2 can adjust inlet pressure from the tank and the outlet pressure at the tap.
Unlike conventional pumps, SCALA2 has an extremely low noise level of 47dB. This is achieved with the help of a permanent magnet motor that reduces noise and a water-cooled operation. A conventional motor compounds the noise through its vibration and wear and tear.
Additionally, the pressure boosting system uses a variable frequency drive to save up to 80% energy in comparison to its conventional counterparts and at the same time detect leaks. This is particularly beneficial in reducing the dependency on traditional energy and further decreasing electricity costs for the end user.
How can SCALA2 achieve the perfect water pressure?
The built-in sensor in the pump has the ability to measure discharged pressure. If the current pressure drops below pre-decided parameters, the solution will boost operation to increase overall pressure and mitigate the loss of pressure.
On the other hand, if the pressure in the pipelines exceeds the maximum parameter, SCALA2 will be able to manage the pressure and reduce it to standard settings. As an advanced feature, SCALA2 will turn off the booster after 30 minutes of continuous operation suspecting wastage or leakage.
Features and benefits
Perfect water pressure with the help of intelligent adaptability
One of the quietest boosters in its class
Capable of operating from 1.5 bar to 5.5 bar with a comfortable discharge of 3 m3/hr.
One variant for all domestic purposes with a compact, 'plug and pump' approach
User friendly control panel for the customer
Reliable operations with dry running protection
Cycling alarm that detects minor leakages in the system (Eg: If a tap has not been closed)
Quality tested product with an increased lifecycle and minimal maintenance costs
Indoor and outdoor installations are available
Applications
Residences (They are ideal for pressure boosting in residences up to 3 floors with 8 taps)
Boosting from mains: SCALA2 can increase the pressure of water delivered by the local municipality
Boosting from tanks: it can increase the pressure of water collected from roof tanks,
rainwater tanks etc.
Boosting from wells: The solution can be used to manage to increase pressure of
water from wells (Depth<8 meters)
Light commercial buildings
o Small restaurants
o Medium-sized schools
o Mini convention halls
o Health dispensaries
o Coffee shops
o Penthouses
For more information, visit www.in.grundfos.com