LG Innotek on May 15, announced it has mass produced thermoelectric modules for Wine Cellars. This product has been applied to the recently launched 'Wine Cellar Mini' by LG Electronics.
A thermoelectric module is an electronic cooling and heating component that controls temperature by supplying electricity to a semiconductor element. It uses the "Peltier effect" in which, when electricity flows to metals of different properties, one side is heated and the other side is cooled.
LG Innotek's thermoelectric module makes it possible to produce smaller and lighter wine cellars. The width and height of the module are approximately half of those of an A4 Paper and its thickness is as slim as 8.5cm. Its volume is about 60% of the whole compressor volume.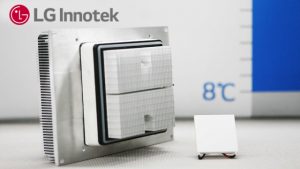 In fact, LG Electronics' "Wine Cellar Mini" installed with this module has a size of 28.2×49.7×53.4cm and can be freely installed in kitchens, living rooms, etc. As it can store up to 8 wine bottles, it is very practical and appropriate for home use.