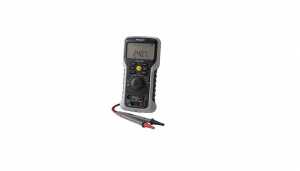 Intended to reduce the need for additional auxiliary instruments, the AVO800 series of digital multimeters (DMMs) from Megger offers true RMS voltage and current measurement with basic accuracy of 0.1%. The series comprises two models: the AVO830 and the AVO835, which provide 600 V and 1000 V measurement ranges, respectively, across AC and DC voltage supplies. Both meters perform AC current measurements from 0.1 mA to 10 A.
The digital multimeters feature two-wire phase sequence detection to identify incorrectly wired three-phase circuits, motors, and generators. They also perform resistance measurement from 0.01 Ω to 50 MΩ, conductance and diode measurement, and 10 MΩ and 10 kΩ input impedance switching without changing the test range.
Each meter is outfitted with a 4-1/2-digit, 10,000-count display with a dual digital readout and analog arc. The AVO830 carries a CAT IV 600 V safety rating, while the AVO835 offers a combined CAT III 1000 V/CAT IV 600 V rating for use in high-energy, low-voltage electrical applications. Units are powered by two AA batteries that typically yield 150 hours of operation without the backlight.
The AVO830 and AVO835 digital multimeters cost $265 and $299, respectively.
To learn more, visit https://us.megger.com