Technology transitions such as the rollout of 5G networks and IoT are driving the accelerated adoption of electronics products. Initiatives such as 'Digital India' and 'Smart City' projects have raised the demand for IoT in the market and will undoubtedly be the most useful in the new era for electronic products. It would be unfair if we ignore this surging industry's growth and its recent innovations.
 ELE Times correspondent Sheeba Chauhan took this opportunity to talk with S Ramakrishnan, Director, Watts Electronics. Watts Electronics has been the key player since the beginning of an electronic revolution in India, starting with the production of just 1/4 W Carbon Film Resistors, the company has been adding to its range of products, specializing in a full range of Metal Film, Carbon Film, Metal Oxide, and Wire Wound resistors. This article is an output of an insightful session with the director of Watts Electronics that covers some of the upcoming technologies and burning issues befalling the engineers.
ELE Times: The overall market outlook seems robust in automotive, telecommunications infrastructure and 5G handsets, and more. What is the growth potential of the Electronic Resistors market in India?
S Ramakrishnan: The Automotive sector has seen a phenomenal increase in its reliance on electronics and is expected to grow 2.5 times in the next five years. Features related to infotainment, communication, safety, embedded connectivity, telematics, etc. have become basic expectations for the consumers. Stringent regulations like CAFE II and BS-VI have also driven an increase in the electronic content in vehicles. The Electric Vehicles segment is also picking up, with considerable penetration in the two and three-wheeler market.
The era of 5G is also coming and the market is predicted to grow rapidly with a CAGR of 122.3% from 2020 to 2026. These trends indicate a considerable growth potential for the Resistors market in India, and Watts is providing various ranges of Chip resistors from thin-film high precision to low ohm current sensing to cater to these markets.
We expect a positive trend in the leaded resistors market as well due to supplemental products such as mobile chargers, Power backups, etc., and in underlying infrastructure such as charging stations, telecommunication hardware, etc.
 ELE Times: What are the key challenges that the Indian Electronic Resistors market may face in the future? What are your plans to overcome the challenges?
S Ramakrishnan: Despite the impressive growth of electronic production in India, the net value added by production units are low because most components are still being imported and not locally sourced. In the case of Resistors, there is no import duty as well. The direct import of Kits is also another challenge to the component manufacturers in India.
So over the years, the Indian market has been flooded with cheap and low-quality imports, and it has been an ongoing challenge for Watts to compete in such a market while refusing to compromise on quality. Ultimately it always comes down to the price, and we at Watts have invested heavily in increasing production and improving efficiencies in order to remain price competitive. It would be a great boost if there are government schemes introduced to incentivize OEMs for supporting Indian component manufacturers.
All that being said, Watts still has the edge when it comes to quality, delivery time, and service. We also work closely with our customers to develop custom resistors to suit their needs. These qualities are well recognized in the market and have helped maintain our brand as among the top in the country.
ELE Times: What are the key factors driving the growth of the Electronic Resistors market for Watts Electronics?
S Ramakrishnan: Watts has been in the industry for over 40 years. We are one of the largest resistor manufacturers in India and have our distribution network across the country. When it comes to resistors, we are experts and our brand is well recognized and trusted in the Indian market. We are well known for our Quality and service, and many of our customers work closely with us on product customization.
Our manufacturing portfolio covers the full range of leaded resistors from Wire Wounds in the range of 1/4W to 15W and Film resistors in the range of 1/8W to 3W (CFR, MFR, MOR, and MGR). We do custom forming as well and also manufacture ceramic encased resistors for higher power requirements.
ELE Times: Which are the growth strategies considered by Watts Electronics to sustain hold in the Indian Electronic Resistors industry?
S Ramakrishnan: Our primarily focus has been to stay true to Watts brand image that we've developed over the years. In the race for price competitiveness, we have ensured that we never compromise on product quality. Instead, Watts has invested in increasing production to maintain the price advantage. We have also invested in areas such as planning, distribution, and engineering, and have been able to offer certain advantages to our customers in areas like delivery lead times, packaging, product customizations, etc. We also keep a close eye on the market and have built sufficient manufacturing flexibility to adapt to the changing demand.
ELE Times: Which are the key trends positively impacting the market growth?
S Ramakrishnan: The increase in consumer electronics gadgets and digitalization in day-to-day life has drastically increased the use of Chip resistors. It has also been quite encouraging to see government schemes such as PLI and SPECS to encourage manufacturing on IT hardware in India, and schemes like FAME for Electric Vehicles. These trends seem to indicate that we are headed in the right direction towards our national objective of an Atmanirbhar Bharat.
 ELE Times: Discuss the manufacturing facility and capability for the Electronics Components division. What are your expansion plans for the future?
S Ramakrishnan: We are ISO 9001:2015 certified and our manufacturing facility has a capacity of about 1 billion resistors annually. We have a complete in-house test facility to ensure that our products meet/exceed the expected quality and performance standards. We currently manufacture Wire Wound resistors, Film resistors, Ceramic encased resistors, Jumpers, Shunts, and also various formed resistors designed for specific customer needs. We are continuously in the process of increasing our production capacity and are currently in the process of expanding our manufacturing facility. We are also assessing the market with the idea of diversifying into other components.
ELE Times: The Company has set up a Wind Power Generator plant at Ramakalmedu way back in 2008. What are your expansion plans for installing more capacity?
S Ramakrishnan: Investing in Wind Power was part of our green initiative, and our wind generator at Ramakalmedu has helped Watts in being a carbon-neutral company by producing as much energy as we consume. As we continue our expansion projects, maintaining carbon neutrality is still very much in focus,  and we are currently assessing our options between wind and solar.
Contributing Author :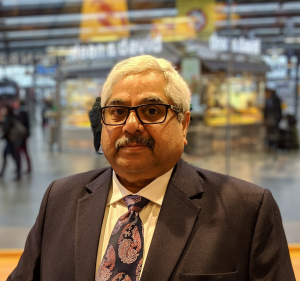 Sheeba Chauhan | Sub Editor | ELE Times