EMS, Inc., an award-winning EMS provider of turnkey and consignment manufacturing services, was honored to welcome winners from a Brazilian Robotics Team to their state-of-the-art facility in Silicon Valley. The team, consisting of three talented young women, was awarded a trip to Silicon Valley to view some of the most advanced high-tech facilities in the world, with Absolute EMS being one of them.
During their visit, the team was given a tour of Absolute EMS' cutting-edge facility, which features the latest in manufacturing technology and equipment. The young women were able to witness firsthand the precision and attention to detail that goes into the manufacturing of high-tech electronics. They also had the opportunity to speak with the team of experienced engineers and technicians who make up Absolute EMS' skilled workforce.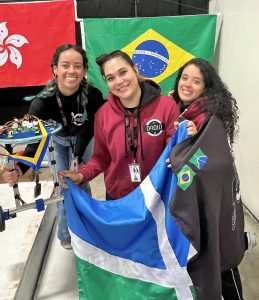 "We were thrilled to have the opportunity to host the winners of the Brazilian Robotics Team at our facility," said Jayne Carthy, VP Sales and Marketing. "We are committed to supporting the next generation of innovators and engineers, and we hope that this visit has inspired these talented young women to pursue their dreams in the field of robotics and technology."
After touring Absolute EMS' facility, the team travelled to OLogic Inc, Silicon Valley's premier engineering consulting company that specializes in robotics. At the OLogic office, the team spoke to CEO and Founder Ted Larson about the evolution of the robotic industry and how to bring products to market successfully.