The Smart Grid is an Electrical Grid with Automation, Communication and IT systems that can monitor power flows from points of generation to points of consumption (even down to appliances level) and control the power flow or curtail the load to match generation in real-time or near real-time.
The smart grid market is expected to grow from USD 23.8 billion in 2018 to USD 61.3 billion by 2023, at a Compound Annual Growth Rate (CAGR) of 20.9% during the forecast period. The major factors that are expected to be driving the smart grid market are modernization of aging grid infrastructure and increasing awareness about carbon footprint management.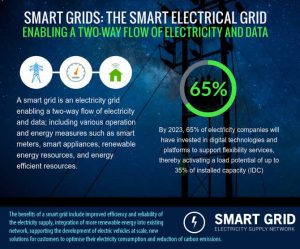 Innovative Smart Grid Technologies
The operation of the smart grid relies on a broad range of technology and infrastructure solutions. Smart grid Based on IoT and data technologies is prevailing and includes several important components:
Smart sensors and meters. These are very basic components of a smart grid enable to track energy consumption on the consumer's side. Sensors in smart appliances continuously create and report status data to enable monitoring and control. Smart meters accumulate energy use data and show the full picture of energy consumption in the house, including loads and estimated cost.
Automated distribution. Advanced distribution systems use real-time data to dynamically respond to the changes in loads, detect blackouts and correct power distribution to enable both safety and economic savings. This is the part where smart grid using IoT introduces automation and self-management.
Charging stations and smart storage. In the concept of smart grid, energy storage and charging stations play an important role. Not only do these technologies allow households to safely go off-grid in cases of outages or accidents. They also reflect the growing demand for independent residential renewable systems. The storage market is expected to reach $50 billion by 2020.
Power system automation. It enables rapid diagnosis of and precise solutions to specific grid disruptions or outages. These technologies rely on and contribute to each of the other four key areas. Three technology categories for advanced control methods are distributed intelligent agents (control systems), analytical tools (software algorithms and high-speed computers), and operational applications (SCADA, substation automation, demand response, etc.).
Using the Internet of Things in Smart Grid. As you can see, the role of IoT in smart gird is crucial. The Internet of Things is in large part the enabler of smart gird as its technological and infrastructural components are mostly IoT-based:
Connected devices, appliances, hubs: The data on energy consumption comes from sensor-enabled IoT devices, appliances and the hubs which control a smart house or any other connected space. This data is then used to analyse electricity usage, calculate the cost, remotely control appliances, make decisions on load distribution, recognize devices, detect malfunctions and risks of an outage, etc.
Real-time data analytics and visualization: Sensor data is the core of the smart grid operation. Processing, sorting, cleaning, analysis and visualization of real-time IoT dataprovide visibility in the supply chain from the moment the energy is produced to the point it's consumed by an end-user. Work with data enables automation, control, management, problem detection and prediction in a smart grid.
Advanced algorithms: Application of machine learning to better understand and use big data is already common in the Internet of Things, and smart grid is not an exception. We know for a fact that machine learning is good at working with massive datum sets, identifying trends, making predictions. Therefore, the use of advanced algorithms to analyse IoT data created in the smart grid supply chain is another way to make it more efficient.
India developing Smart Grid Technologies
India has declared targeted capacity addition of 175 GW by 2022 from Renewable Energy Sources, in particular Solar, Wind and Bio energy (100 GW Solar, 60 GW Wind and 15 GW Bio Energy). This is partly due to growing concerns about energy security and also because of voluntary commitment to reduce its CO2 intensity by 20–25% by 2020. These targets are for utility-scale grid-connected plants as well as off-grid decentralized plants for rural applications. There is a need to re-engineer the energy infrastructure to absorb such a high level of renewable generation without causing any grid instability as explained below:
Research Challenge: The present energy infrastructure is engineered for large-scale centralized conventional generation, transmission and distribution. The present share of renewable sources such as solar and wind power is less than 2% in India. A future energy infrastructure capable of large scale renewable integration presents the following challenges:
Managing Intermittency: Solar and wind are inherently intermittent sources. Large variations cause serious operational difficulties, as experienced in several countries. Large-scale wind and solar power, on the other hand, require quick ramp-up generators and storage devices to off-set the variability in generation.
Energy Storage: At present, pumped hydro is the only cost-effective technology for grid-level energy storage. Future capacity addition is, however, limited given the ecological concerns with building reservoirs for water storage and the strict geological/geographical requirements for pumped hydro. There is a critical need to develop another cost-effective energy storage options for both grid-connected and off-grid power systems.
Demand Response: Renewable power generation does not coincide with the load curve. Therefore, there is a need for 'management' of the load curve, in particular shifting the peak load. This requires both, strategies for load management and control such as 'demand response' and innovative tariffs such as 'time-of-use' or 'real-time pricing'.
Micro–Grids: Decentralized power generation is an important option to pursue. In India, utility-scale generation would take several years to provide quality electricity to consumers, particularly to remote villages. The rapidly declining price of Solar PV makes it possible to envisage decentralized (especially rural) micro grids with energy storage in India.
Smart grids are the future
Technology was essential in bringing energy to every home since the early 20th century. The progress of technology has enabled nations to harness different forms of energy. However, the sustainability of the world's dependence on energy has only come into focus in more recent years.
Today, we are seeing the advancement of power grids towards its modern setup, in the form of smart grids. Considerable research in development, and investment on infrastructure, are being made to enable energy efficiency and optimisation on a massive scale. All of this contributes to bringing energy producers and the many energy distributors in the market into the modern age.
The smart grid is resilient, efficient and green which is good for the consumer, the utility company and the environment. The wireless technology will replace thousands of miles of cable that would have been needed to advance the smart grid to where it is today.
The full scope of benefits that smart grids have to offer is yet to be realized. Through their augmented infrastructure, smart grids are geared for energy efficiency and the ability to gain insight on real-time databased on consumption and usage.