STMicroelectronics, a global semiconductor leader, serving customers across the spectrum of electronics applications, hosted its 4th Industrial Summit 2022, under the theme of "Powering Your Sustainable Innovation", where the focus was on ST's progress towards achieving sustainability with help of innovation.
ELE Times had the opportunity to attend and have a virtual media interaction with Francesco Muggeri, Vice President, Marketing and Applications, Power Discrete and Analog, APeC/China, STMicroelectronics. Mugger shared his insights on – as to how ST industrial solutions are helping to achieve its 2027 carbon neutral goal by saving energy and improving efficiency. Excerpts.
Under the theme of "Powering Your Sustainable Innovation," the annual Industrial Summit included a full range of leading-edge demonstrations together with insightful technical sessions presented by ST and its technical partners, sharing the complete ecosystem to power attendees' next designs and innovations.
Highlighting on its 30+ year commitment to sustainability, ST's main attraction for this year's Summit were 4 showstopper areas that addressed Green Energy Generation and Storage, Smart School, Smart Healthcare, and Smart Agriculture. The presentations drew attention to the various steps that ST has taken on a global level to accelerate growth through ST's action powering sustainability and innovations.
 STMicroelectronics: Industrial Market Segments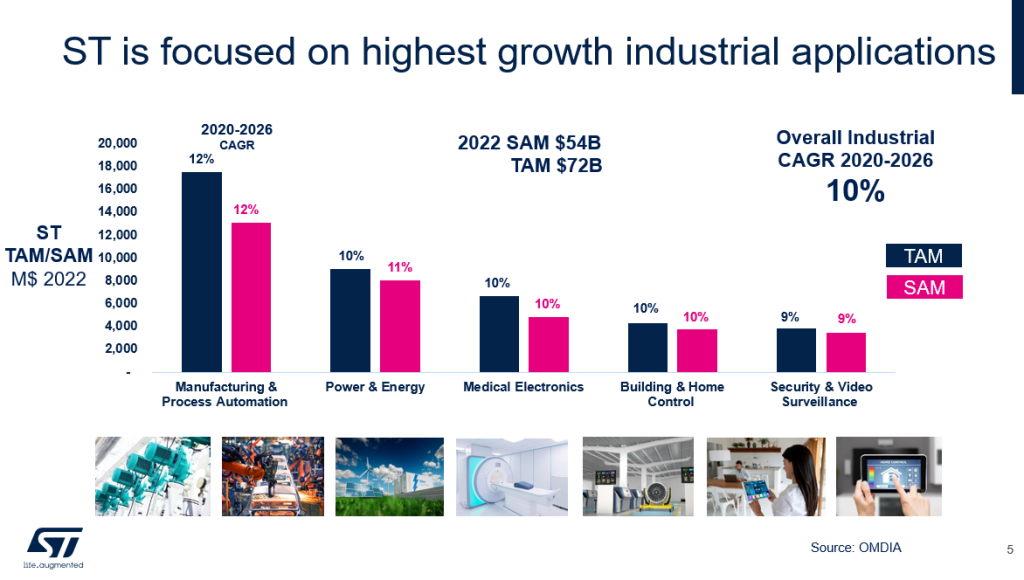 Under the industrial segment ST focuses on Power & Energy, Motor Control and Automation. Under Power & Energy, ST deals in the application areas that include Power supplies and converters, Energy generation and storage, LED lighting and controls, Metering and power line communication. 
Motor Control applications: ST deals in Home appliances and aircon, Motor drivers and servo drivers, power and garden tools, and high-end consumer. 
Automation: ST deals in factory automation systems, Industrial robots, Smart homes, building and city automation, Smart farming and agriculture.
Sustainability Driven on all levels of Society: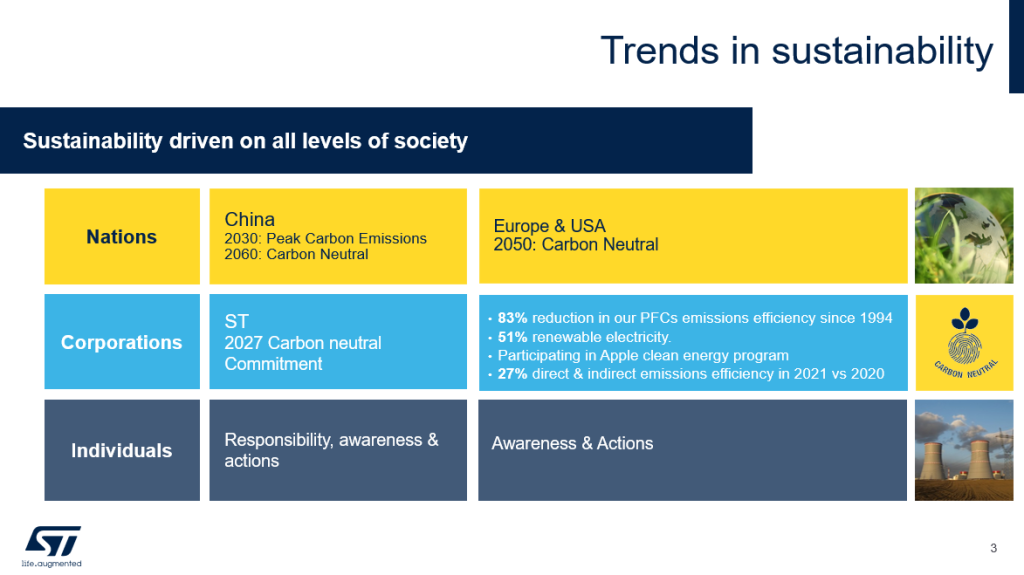 Though carbon neutrality will be reached in China by 2060, and in Europe and America by 2050, the companies need to comply with the same as soon as possible, said Francesco Muggeri. ST is well ahead of time as 51% of its used electricity comes from renewable energies and it will reach 100% usage of energy from renewable sources by 2027. ST is helping its customers to reach this level.
Understanding the impact of Global Energy Consumption:
Francesco Muggeri explained that ST's any kind of solution recommends to save energy and improve efficiency. Saving Energy and improving efficiency is important. For example saving 1% of energy in the industrial market equates to 15 nuclear plants' production of energy that amounts to reducing 32 million tons of CO2. He further said that by increasing efficiency at residents we will save energy produced by 10 nuclear plants.
Industrial Applications:
Industrial Markets are mainly driven by industrial processing, power and energy. By an estimate, he said, the total addressable market is about USD 72 Billion. Out Of this 70% market can be addressed by ST's products, signifying the wide portfolio of the company.
Competence Centers:
To support their Industrial customers STMicroelectronics operates three dedicated Industrial Competence Centers. There are three specific focus of Competence Centers – helping to generate clean energy, helping to create efficiency on the solution and energy transmission and helping with intelligence by introducing automation, therefore reducing energy.
Power and Energy Competence
Center From the application point of view ST develops solutions with DC/DC 30kW and planning for a 60kW. From a product point of view, SiC products will be the main driver. In addition, ST has modules for 30kW solution preferably SiC modules.
Automation Competence Centre
ST introduces the solution of 360-degree support for factory automation. ST demonstrated sensors, data edging for sensors, seamless communication with IO links, and how this data was connected using the interface, and safety.
Competence Center for Motor Control
Francesco Muggeri said that 50% of the world's energy is consumed by motors. So there is great potential for energy-efficiency improvement and CO2 emission reduction by improving the energy efficiency of motors and their drivers. He mentioned that intelligent motor control can help improve the efficiency by using various sensors including MEMS. Through constant iteration and improvement of MCU computing power, motors can identify the environment intelligently.  
ST's Product Portfolio for Industrial Applications
ST has the widest product portfolio for industrial applications. Discrete and power transistors, Analog, Industrial and power conversion ICs, GP MCU and MPU, Secure MCUs, EEPROM, MEMS and Optical Sensing solutions for embedded processing, power and energy management, sensors and acceleration in Analog.
Silicon Carbide Gallium Nitride (GaN)
Talking on Silicon Carbide (SiC) MUGGERI said that ST is producing raw wafers in Catania and will produce the first raw wafers by 2024.
The company has built the production line of Gallium Nitride (GaN) to produce power discrete products. It already has a system-in-package, he added. ST provides a rich variety of GaN products including 650V GaN power transistors, G-FET, G-HEMT, and G-driver series. It has the MasterGaN series which is the first GaN solution that integrates two GaN power transistors, drivers and logic control units within the industry. The company has VIPerGaN series which integrates a QR fly back converter and a 650V GaN power transistor. G driver series provides driver circuits for IGBT, SiC MOSFET and GaN.
ST has resources like hardware and firmware to support customers. ST has programs to develop know-how with the help of universities and percolate the same to distribution channels and customers to learn more about the products in India, South east Asia, Taiwan, Mainland China, Korea and Japan.