At iba 2023, NORD DRIVESYSTEMS will present its large range of innovative drives from October 22 to 26, 2023 at the Fairground Munich. The presentation in Hall B3, Stand 490, will focus in particular on NORD solutions for hygienically sensitive applications in the baking and confectionery industry.
NORD-surface-treatment-nsd-tupH.jpg: The nsd tupH surface treatment offered by NORD is a powerful corrosion protection for gear units, smooth-surface motors, frequency inverters and motor starters in wash- down-optimised cast aluminium housings. 
The food industry places great demands on reliable, efficient and easy-to-clean drive solutions. NORD DRIVESYSTEMS offers a wide range of solutions for this area that help to reliably realise hygienically sensitive applications.
Alternative to stainless steel: nsd tupH surface treatment
The nsd tupH process developed by NORD DRIVESYSTEMS makes drive surfaces very corrosion-resistant, similar to stainless steel This is not a coating, but a treatment based on an electrolytic process that creates a protective layer that is permanently bonded to the substrate material. So nothing can detach or flake off.
Drives with the nsd tupH surface treatment are largely resistant to acids and alkalis and can be cleaned reliably and hygienically. The efficient surface treatment is thus perfect for use in hygienically critical areas in the food, beverage, packaging, pharmaceutical or chemical industry. It is also the optimum solution for applications in extremely humid environments, for example in maritime and coastal areas.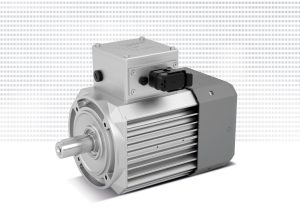 Fanless or smooth IE5+ synchronous motors
The new IE5+ motor generation was designed by NORD DRIVESYSTEMS with a special focus on its use in the food or beverage industry as well as the intralogistics sector. The IE5+ generation is available in both fanless and smooth versions up to a power of 4.0 kW with a continuous torque from 1.6 to 18.2 Nm and speeds from 0 to 2,100 min-1. The smooth-surface, hygienic design of the fanless variant is particularly efficient, easy to clean, corrosion-resistant and wash-down capable. It is therefore ideal for reliable use in hygienically sensitive environments. If desired, nsd tupH surface treatment and the protection class IP69K are available. The outstanding feature of the particularly compact and energy-efficient synchronous motors is their constant high efficiency – up to 95% over a wide torque range. As a result, they also offer optimum energy consumption performance in partial load and speed ranges.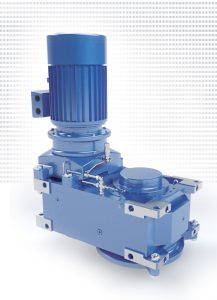 SAFOMI-IEC adapter for agitators
The SAFOMI-IEC adapter (SAFOMI = Sealless Adapter For Mixers) from NORD DRIVESYSTEMS, which was specially developed for mixers and agitators has an integrated oil expansion chamber and thus provides the MAXXDRIVE® industrial gear units with decisive advantages such as increased reliability and reduced maintenance. Compact and simple in design, the adapter has an integrated oil expansion volume. Oil tanks and hoses as well as the radial shaft seal that is subject to leakage and wear between gear unit and IEC cylinder are not required. SAFOMI is available for MAXXDRIVE® parallel gear units and in sizes 7 to 11, i.e. for maximum output torques from 25 to 75 kNm. The compact combination of the MAXXDRIVE® industrial gear unit, SAFOMI-IEC adapter and a drive motor is an optimal choice for mixer and agitator applications in order to reduce wearing and attached components.