Polymatech Electronics has produced sapphire wafers to provide affordable wafers for Indian and global customers
The company's ability to produce high-quality sapphire wafers is crucial in helping industries that use LEDs and require large volumes to support the consumer electronics and general lighting industry
Polymatech Electronics, India's first semiconductor chips manufacturer, has introduced a complete range of high-quality sapphire substrates which includes two, three, and four-inch diameter sapphire wafers in the market. The Made in India wafers are being produced in the Oragadam facility in Tamil Nadu to ensure lower costs and stability. The recent augmentation of the company's infrastructure has increased its ability to produce affordable, high-quality, large-diameter sapphire wafers in large volumes for customers worldwide. Polymatech's goal is to make high-quality sapphire wafers more accessible and affordable to Indian and global customers. The company's ability to produce large volumes of sapphire wafers is critical in supporting industries that manufacture LEDs for consumer electronics and general lighting companies.
With the ability to affordably produce larger wafers, Polymatech is uniquely positioned to deliver the sapphire capacity necessary to support the growing demand for LEDs in the Indian consumer electronics and general lighting industries. Industries that will benefit include those producing smartphones, large displays, traffic lights, HDTVs, tablets, netbooks, and light bulbs that leverage LEDs. As a vertically integrated manufacturer with capabilities in crystal growth, Polymatech Electronics aims to be the provider of choice for high-quality, large-diameter sapphire wafers that have a heat resistance of materials up to 2,000 degree Celsius.
Sapphire possesses exceptional physical and chemical characteristics that allow it to withstand high temperatures, erosion and thermal shock. Because of these properties, sapphire substrates are extensively utilised in the production of compounds like Gallium Nitride (GaN), which are used in the manufacture of laser diodes and blue LEDs. Sapphire wafers are most widely used for the production of high-power LED applications, high-brightness LEDs (HB-LEDs) and are also being increasingly integrated into the production of smartphones, among demand by a host of other sectors. In fact, as per Transparency Market Research, the sapphire substrate market is estimated to grow at a compound annual growth rate of 6% on a global scale between 2020-2030[1].
Among the range of sapphire wafers, Polymatech is focusing on the manufacturing of 4-inch diameter wafers with crystal orientation c side (0001), A-plane (11-20) and thickness of 430±15μm with GaN crystals for high-quality lighting and consumer electronics industries in India. This is in response to the current high demand for 4-inch sapphire wafers in the lighting and consumer electronics industries in India. The company also plans to scale up to make eight-inch diameter sapphire wafers in the future while maintaining the transparency of 200 to 7000 nm.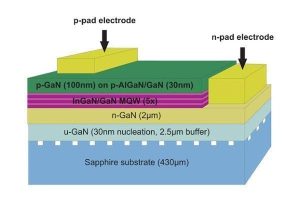 Commenting on the new milestone, Eswara Rao Nandam, Polymatech President and CEO said "Polymatech has a top-notch R&D and engineering team that is making great strides in the development of high-quality sapphire including India's first 4-inch diameter wafer. It takes unique technology with advanced processes to make high-quality, large-diameter sapphires at scale. The Polymatech team has built a specialised, end-to-end process to ensure the top quality of our full range of wafer products. As of now, our wafers are for captive consumption and we will supply them to the market later. Polymatech's ability to produce larger sapphire wafers will be key to helping industries that make and use LEDs scale up to support the growth needed in general lighting and consumer electronics. It is also important for us that our customers are able to depend on us for uniform, particulate-free sapphire wafers as well as flat, stress-free wafers. High-quality sapphire wafers help our customers produce high-quality LED wafers at volumes to support the LED supply chain."
Polymatech Electronics sought experts in sapphire crystal formation and processing, as well as in the optoelectronics and semiconductor industries from around the world to redefine the end-to-end process for sapphire wafers manufacturing. The company's upcoming facility in Krishnagiri, Tamil Nadu is also set to take advantage of the location to further lower costs and bring extensive experience in polishing large-diameter sapphire wafers closer to the LED, consumer electronics, and general lighting manufacturers in Asia.