Fluke India launches 2 New exciting Digital Multi-meters – Fluke 15B MAX & Fluke 17B MAX.
The NEW Fluke 15B MAX and 17B MAX Digital Multimeters inherit the classic design of Fluke multimeters and fully upgrade their functions to meet your requirements for safe, accurate, durable, and easy-to-use measurements. They come with many enhancements like better display resolution, higher measurement range, and improved safety thru wrong input alarms.
These new MAX range of DMMs are equipped with TL 31 Fine Tip Test Leads which are specially designed for engineers working on electronic components, PCBs and circuit boards.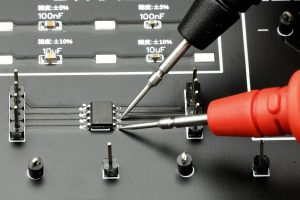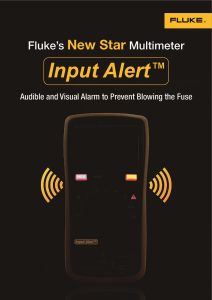 Fluke TL 31 Fine Tip Test Lead is an essential tool for electronics engineers working in design, R&D, repair & troubleshooting electronics boards, PCBs & components, that need a rugged, reliable yet affordable DMM which can withstand the day-to-day rigour of the industrial environment.
Fluke 15B MAX & Fluke 17B MAX are compact, easy-to-use tools that deliver safe, reliable measurements. They carry all the features & benefits of their predecessor Fluke 15B+ & 17B+ and have added many new features to make them even better.
New MAX range multimeters have Any Key Wake-up function, improved capacitance range of 2000uF, and a louder continuity beeper for measurement in noisy industrial environments.
Apart from the above exciting new features, Fluke 15B & 17B MAX range retains all features of previous models like Resistance, Frequency, Temperature measurement, Diode & Continuity test, Min / Max / Hold readings on a Large backlit LCD display.
Fluke 15B MAX & 17B MAX are CAT III 600V tested with AC/DC voltage, AC/DC current, mA, mV, Resistance, Capacitance, Temperature (17B+) measurement. These new DMMs also offer Diode check, Continuity check & Duty cycle measurement features.
"All DMM are designed and tested as per IEC 61010:1 for CAT III 600V have a large & easy to read backlit 6000 count LCD display for easy readout with data hold and auto-ranging. These new DMMs offer a choice of Fluke TL31 Fine Tip Test Lead which is an indispensable tool for electronics engineers, Fluke India Calibration Certificate and Genuine Warranty certificate" informs Prashant Jain-Product Manager-Fluke India.
These new exciting DMMs are available through a large nationwide Fluke retail channel network.