According to a new study by Adroit Market Research The market for EV adhesives was valued at US$ 287 million in 2021 and is anticipated to increase to US$ 3.4 billion by 2031, at a CAGR of 25%. The Asia Pacific region, which now holds over 57% of the market share, would likely dominate the EV Adhesives market, followed by Europe and North America.
EV Adhesives have been employed in the automotive industry since the early 20th century when they were mainly utilized to affix leather and rubber parts together. Adhesives have developed over time, and they are now utilized for a variety of purposes, such as joining composites, metals, and plastics. Due to their lightweight characteristics and capacity to lower noise and vibration, adhesives have seen an increase in demand in recent years for the manufacturing of electric vehicles.
Specialized adhesives called EV Adhesives are employed in the production of electric automobiles. They are made to offer the best possible bonding strength, flexibility, and durability under challenging conditions like high or low temperatures, exposure to moisture or chemicals, and so on. Electric vehicle adhesives are used to glue the battery packs, motor assembly, and electronic control units together.
There are many small and major competitors working in the highly fragmented EV Adhesives industry. Henkel AG & Co. KGaA, 3M Company, H.B. Fuller Company, Sika AG, Ashland Global Holdings Inc., Arkema Group, The Dow Chemical Company, LORD Corporation, Huntsman Corporation, and Momentive Performance Materials Inc. are a few of the leading significant competitors in the market.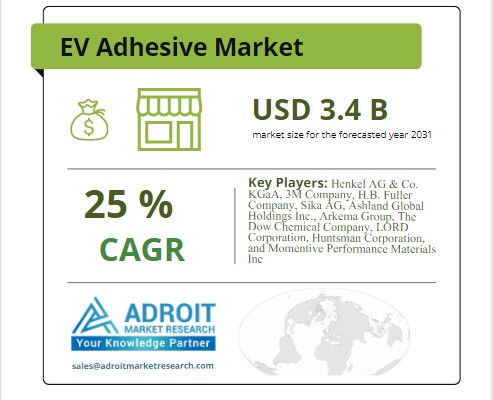 To fulfil the increasing demand for EV Adhesives, these important players are concentrating on creating novel and cutting-edge products. For instance, to meet the unique requirements of electric vehicle makers, Henkel introduced a new line of EV Adhesives in October 2021 that included high-strength structural adhesives, electrically conductive adhesives, and thermal interface materials. Henkel also unveiled a line of adhesives that are intended to enhance the functionality and security of the batteries in electric vehicles. In order to create high-performance electric vehicles that can handle challenging operating circumstances, manufacturers may now construct a new variety of EV Adhesives that deliver higher bonding strength and endurance.
Current Trends in the Market include an increase in the use of lightweight materials a trend in the automotive industry, and EV Adhesives are essential to this change. Adhesives are taking the place of conventional welding and mechanical fasteners, allowing electric vehicles to be lighter while still being structurally sound.
Rising Global Demand for Electric Automobiles: The market for EV Adhesives is expanding as a result of the rising global demand for electric automobiles. Specialized adhesives are necessary for electric vehicles to join their lightweight components, making EV Adhesives a crucial step in the manufacturing of electric vehicles.
Focus on Sustainability: The automobile industry is placing an increasing amount of emphasis on sustainability, which is driving up demand for environmentally friendly EV Adhesives. Manufacturers are concentrating on creating environmentally friendly adhesives that can be recycled at the end of their useful lives.
The 3M Company, which provides a variety of adhesive solutions for electric vehicle makers, is another significant player in the EV Adhesives industry. The business introduced a new line of conductive adhesive tapes in September 2021 that can be used in the battery packs of electric vehicles, allowing manufacturers to lower the size and weight of battery packs while enhancing their thermal management.
Another significant competitor in the EV adhesives market is Bostik, a division of the Arkema Group that provides a variety of adhesives for the production of electric vehicles. The company's products are engineered to offer exceptional bonding strength, durability, and resilience to changes in temperature and humidity. Bostik announced the introduction of a new line of EV Adhesives in November 2021, including thermal management products and high-strength structural adhesives, to enhance the functionality and security of electric vehicles.
Huntsman Corporation, Ashland Global Holdings, Inc., and H.B. Fuller are more significant market participants for EV Adhesives. These businesses supply electric car manufacturers with a variety of adhesives and sealants, including goods intended to increase the reliability and safety of electric vehicle parts.
In the upcoming years, the market for EV adhesives is anticipated to expand significantly due to a number of factors, such as the rising demand for electric vehicles, the move toward lightweight materials, and the emphasis on sustainability. Here are a few trends and business prospects in the EV Adhesives industry for the future:-
Next-Generation Adhesives: The demand for more advanced and specialized EV Adhesives is increasing as the market for electric vehicles expands. Next-generation adhesives that can survive challenging situations, offer higher bonding strength, and give improved durability and flexibility are the main emphasis of manufacturers.
New Applications: New applications are anticipated to appear as EV Adhesives' use continues to grow. Adhesives might be utilized, for example, in the aerospace and defence sectors to bond lightweight components.
Market expansion for EV adhesives: In addition to the creation of electric vehicles, the market for EV adhesives is anticipated to grow. In order to produce renewable energy systems like wind turbines and solar panels, manufacturers are looking for new uses for EV Adhesives.
Sustainability is getting more attention in the automobile industry, and it's expected that consumer demand for EV adhesives will follow suit. Manufacturers are likely to concentrate on creating adhesives that are safe for the environment, biodegradable, and contain no toxic materials.
The rising demand for electric vehicles, the move toward lightweight materials, and the emphasis on sustainability are expected to propel the EV Adhesives market to considerable growth in the upcoming years. Numerous important firms are present in the market, which is extremely competitive. Next-generation adhesives with greater durability and flexibility are being developed by manufacturers in order to endure challenging situations and deliver higher bonding strength. New uses are anticipated to arise as the use of EV Adhesives grows, and the market is anticipated to extend beyond the manufacture of electric vehicles. The EV Adhesives industry appears to have a bright future, and both manufacturers and investors can benefit from several expansion potentials.