From Hollywood movies and biographies to the Indian Prime Minister, people in India, significantly its youth, are getting a perfect dose of stimuli to have their spirits sky-high for becoming the next entrepreneur or a billion-dollar start-up founder. Back in the day, when startups were looked down on and discouraged, the wave of the startup culture in India is ever soaring now, and we have witnessed a Plethora of unicorns in the past decade as well.
ELE Times sub-editor and correspondent Mayank Vashisht had a very candid and insightful conversation about the Startup ecosystem in India with Varsha Tagare, Managing Director at Qualcomm Ventures. Excerpts: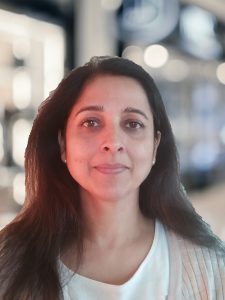 ELE Times: Please reflect upon your journey as Senior Director and Head of Qualcomm Ventures, India.
I started my career as a chip designer at Intel. Working late-night shift in the fab we launched our top-of-the-line processor in the market, at that point of time. I was disappointed when we had to launch the processor with artificial benchmarks instead of real-world applications. That's when I decided to learn more about the requirements of the software developers (so that the next chip design will be launched with real-world software). This was my move to marketing and eventually into Ventures as I helped the software developers with funding. As we all know engineers and marketers are like oil and vinegar. At the beginning of my career, I would not have thought I would finally end up in Ventures through the marketing path.
We are a small collaborative team at Qualcomm Ventures working on investments in areas of 5G, IoT, Auto, Applied AI and Security. We have been fortunate to work with very smart CEOs like Ankit Mehta (ideaForge), Krishna Depura (MindTickle), Aman Gupta (boAt), Vedha Sayyaparaju (Zuddl) to build strong technology companies in India.
ELE Times: Amidst the COVID-19 pandemic, Indian start-ups suffered a major funding crunch. What are your thoughts on the above statement?
The pandemic and the lockdown disrupted the operations of established businesses as well as startups. Start-ups, the more vulnerable of the two, was more severely impacted by business closure and reduced interest from investors. However, India's startup ecosystem has survived the uncertainties in the market and has become stronger through government support and the creation of new business models. There has been a rebound, led by sectors such as deep tech, SAAS, fintech, e-commerce, ed-tech, online gaming, and others, on the back of increased adoption of digital technologies across the country. The success of home-grown deep techs companies like ideaForge, MMI, MindTickle and boAt are testament to this. Even amidst the pandemic, 11 Indian startups attained "unicorn" status in 2020. Since early this year, there has been a surge in funding across sectors in terms of both value and volume.
According to a recent report by PwC India, Indian startups raised $10.9 billion in July-September 2021. This is twice the amount of funding received in Q3 CY20 and an increase of around 41% as compared to Q2 CY21. As of October 31, 2021, startups have received a combined $28.5 billion in funding, more than twice the amount in 2020 ($11.3 billion) or 2019 ($13.1 billion). As many as 745  startups received venture capital funding until October-end this year, as opposed to 698 startups in 2020, and 763 in 2019. Data by Hurun Research Institute shows that India has become the third-largest startup ecosystem in the world after the US and China, and the number of future unicorns in the country is rapidly growing. With more firms going public, funding levels increasing, and 35 new unicorns ten months into 2021, India's startup ecosystem is poised for continued growth in 2022.
Additionally, in July 2020, amidst the pandemic, we launched the Qualcomm Women Entrepreneurs India Network (QWEIN). The six-month curriculum comprises a dedicated mentorship, peer networking and masterclass workshops spanning finance, intellectual property strategies, sales, marketing, and product management, among other areas of expertise. The inaugural group of 14 entrepreneurs were selected from a pool of eligible candidates, represented diverse sectors, including healthcare, IoT, robotics, cleantech, agritech, XR and logistics. QWEIN which is now in its second year has helped change the lives of women entrepreneurs. We hope that we are able to enhance awareness of the need for female representation in the tech start-up space.
ELE Times: How much has the start-up ecosystem evolved in India over the years?
India is home to a strong angel investor network that is witnessing active participation from every major Venture Capitalist and Private Equity firm. The past decade has seen 72 Indian start-ups become unicorns, 35 of them in 2021 alone (Source). A recent report by PwC India suggests that the funds raised by Indian start-ups crossed $10 billion in a three-month period for the first time ever in July-September 2021, with investors bullish on the potential of Indian projects (Source). The pandemic did impact global investments coming into the country, and India fell to 23rd position in the Global start-up Ecosystem Index in 2020 but climbed to the 20th spot in 2021 (Source). With start-ups seeing a record round of investments this year, the prospects for next year are looking bright. The success of Freshworks, Ola, and BYJUS have shown the kind of potential that Indian start-ups have. There has also been a significant increase in demand for talent across start-ups, resulting in a rush for talent to support their continued growth. The addition of new start-ups and unicorns and the adoption of deep tech will help India continue its march towards the target of a $1 trillion digital economy.
ELE Times: What do you think are the key drivers that encourage youngsters in India to become an entrepreneur? Is it Hollywood's dragooned megalomania for founders or are there some genuine key drivers?
There is no dearth of entrepreneurial talent or good ideas in India. Moreover, there are many success stories to look up to, both in India and abroad. The strong focus on the digitalization of the economy, the growing proliferation of wireless connectivity and connected devices, and the government's backing for indigenous startups have all given newfound confidence to India's aspiring entrepreneurs. Urbanization, globalization, and improved connectivity have exposed India's youngsters to new ideas and limitless possibilities. Internet penetration in India is on an upward trend and growing thrice as fast in rural India as compared to urban India (Source), fueling aspirations in both rural and urban India. Furthermore, India has a long history of business families that have fostered innovation and growth in the Indian industry. A report published in 2018 noted that 111 of the most popular family-owned businesses had a total market capitalization of some $839 billion. Additionally, there is a large number of small-and-medium-sized businesses spread across India. (source)
ELE Times: What is your career advice for women, who are generally underrepresented in the start-up ecosystem?
We have seen many women CEOs and executives in India compared to the Western markets. In our portfolio, we have CEOs like Shradha Sharma (YourStory), Meena Ganesh (Portea), Vedha Sayyaparaju (Zuddl) who have built strong businesses. For women looking to start companies, I would recommend that they look into resources like incubation and mentoring networks like Qualcomm Design in India Challenge (QDIC), Qualcomm Women Entrepreneurs India Network (QWEIN) for technology-oriented sectors. It's a great time to build companies, so I would suggest taking a risk.
To all the ambitious women out there, who want to start out on their own, I would say "never settle". Focus and consistency are key to achieving your goals. Make sure you develop meaningful relationships and build a great team that shares your vision and your values. Furthermore, don't hesitate to ask for help, if needed. Mentors can be of great help as you navigate choppy waters, and they can support your growth as you go along, right from the start to the finish.
ELE Times: What do you think are the biggest limiting factors for women not to advance their careers esp. as an entrepreneur in India? What can change or what has changed over time?
We have seen many women CEOs in India, especially in financial institutions and are optimistic that a similar trend will happen in early-stage companies. More women today are attending engineering and business schools. It's only a matter of time for these talented women to make their mark in their chosen industries.
However, there are some challenges that are still prevalent today. According to the Kauffman Foundation, about half of all the women entrepreneurs in India face difficulty in finding mentors, which, in turn, affects their chances to learn and succeed in the startup environment. In India, only 13 per cent of all tech unicorns have female co-founders.
Female entrepreneurs are also hampered by a lack of access to finance and resources. Research by Crunchbase showed that only 2.4% of startups that were funded entirely by women received funding in 2020. On the other hand, an analysis by the Boston Consulting Group found that women-led startups that do get funded are more likely than others to be successful, and also 2.5 times more likely to hire women. These numbers underline the need to ensure gender parity and eliminate institutional patterns that deter VC firms from acknowledging and funding the ideas of female entrepreneurs.
We, at Qualcomm, are cognizant of the inadequate representation of female entrepreneurs in the start-up space, particularly in India. In recognition of this, in 2020, we launched the Qualcomm Women Entrepreneurs India Network (QWEIN) initiative to offer a comprehensive mentorship program to female entrepreneurs in the deep tech space to help them unlock the full potential of their business. The QWEIN initiative welcomed its second cohort of women leaders this year.
ELE Times: How much time will it take for India to become the new Silicon Valley of the world? Will it ever happen, or is this just another farfetched anticipation?
India is a growing market for start-ups, and the post-pandemic quarters have seen record funding by global investors. The country has a proven track record of producing world-class products and services. For instance, Freshworks recently became the first Indian SaaS firm to go public on the US stock exchanges. Similarly, MindTickle successfully raised $100 million in a new financing round.
The number of unicorns this year alone have almost doubled from the total number of unicorns India had up till 2020. We have even surpassed China in the number of new unicorns this year. Today, India has more than 40,000  start-ups, making it the third-largest start-up ecosystem in the world (source). Bangalore is widely regarded as the Silicon Valley of India for the concentration of tech giants and tech start-ups in the city. Given the recent scale-up of the start-up ecosystem and with many start-ups launching or planning to launch IPOs in India and abroad, it isn't far-fetched to imagine India becoming the new Silicon Valley of the world.
Mayank Vashisht | Sub Editor | ELE Times